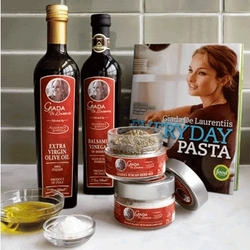 I was born in Rome, and I grew up in a large Italian family where the culture of food was an integral part of my life. My relationship with Academia Barilla is an obvious one, combining my love for traditional Italian cooking with the best ingredients available
Bannockburn, IL (PRWEB) July 1, 2008
Academia Barilla and Emmy nominated celebrity chef and cookbook author Giada De Laurentiis launch a range of co-branded, specialty food items for distribution in gourmet stores nationwide.
Giada De Laurentiis Selected by Academia Barilla® is Barilla's first-ever gourmet celebrity product line, and offers food connoisseurs an authentic taste of Italy.  Products include Italian Extra Virgin Olive Oil, Balsamic Vinegar of Modena, Sicilian Hand-Harvested Sea Salt with Fresh Lemon Zest, and Giada's Tuscan Herb Mix, all personally selected by De Laurentiis. Giada De Laurentiis Selected by Academia Barilla® will also be available online at the Academia Barilla online store beginning today, July 1, 2008.
Giada De Laurentiis is host of two popular Food Network cooking shows, a co-host of NBC's Today show, and author of three New York Times best-selling cookbooks, with two and a half million copies in print. Her most recent book, Everyday Pasta, was released in April 2007. A fourth cookbook, Giada's Kitchen, will be in bookstores nationwide in Fall 2008. She is the granddaughter of famed Italian movie producer Dino De Laurentiis and legendary actress Silvana Mangano. 
Ms. De Laurentiis was the spokesperson for the Barilla groups U.S. pasta division, appearing in print ad campaigns across the country for the past two years. Her ongoing relationship with the company through Academia Barilla is best described as a natural fit, as both are dedicated to the love of traditional Italian cooking with the best products and ingredients available.
As Giada De Laurentiis says, and reports on the back label of all Giada De Laurentiis Selected by Academia Barilla® products, "I was born in Rome, and I grew up in a large Italian family where the culture of food was an integral part of my life. My relationship with Academia Barilla is an obvious one, combining my love for traditional Italian cooking with the best ingredients available".
About Academia Barilla -
Academia Barilla, part of the global Barilla group, was created in 2004. Its mission is to protect, promote and develop authentic Italian culture and cuisine throughout the world. Accomplishing this in many ways, Academia Barilla's portfolio includes a state-of-the-art culinary center in Parma, Italy; a premium range of best-in-class Italian food products; luxury gastronomic tours of Italy's Food Valley; one of the largest food libraries and historic menu collections in the world; and most recently, a partnership with celebrity chef Giada De Laurentiis. 
For more information, please contact Ms. Kim Sayid of Academia Barilla at 866.77.ACADEMIA or 847.405.7524. Visit also the Academia Barilla website and our Italian Food Lovers gourmet blog.
###