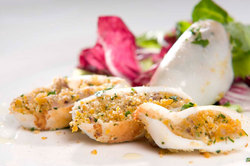 Parma, Italy (PRWEB) June 8, 2010
The first online Italian magazine dedicated to food and travel
Academia Barilla celebrates 6 successful years spreading Italian food culture
To celebrate its 6th birthday, Academia Barilla decided to launched a new online magazine about travel, history and food culture at: http://www.italian-food-lovers.com. The monthly magazine is dedicated to the pleasures of travel, the discovery of Italy, environmental issues, history, people and culture. Readers will be taken of a journey through the various regions of Italy and learn about local cuisines, from Sicilian pasta with sardines to strudel from Trentino Alto Adige. On of the main goals of the magazine is to shine a light on the lesser-known parts of Italy – the less touristy spots, that are equally as rich in food tradition and culture.
"The idea to publish an online magazine," says Gianluigi Zenti, Director of Academia Barilla, "comes from our desire to interact and communicate more directly with Italian food lovers. By adopting an online format, readers can contribute content and leave comments. For the past 6 years, Academia Barilla has worked concretely to protect and support authentic Italian products throughout the world."
Located in the heart of Parma, Academia Barilla is housed inside the Barilla Center, built on the site of the historic Barilla pasta factory and designed by famous architect Renzo Piano. The innovative structure is composed of kitchen classrooms, an auditorium, multi-sensory tasting rooms and the magnificent Gastronomic Library with over 9,000 books for public viewing.
Academia Barilla was founded in 2004 with the goal of defending, developing and promoting Italian food culture. In order to achieve this goal, Academia Barilla has had over 6,000 visitors to its Parma headquarters and organized over 250 events, cooking classes, food and wine tours and gala dinners in this past year alone. In addition, the organization has branded a line of top quality Italian food products and publishes books in Italian, French and English.
Since 2004 to today, over 36,000 people have visited the Parma headquarters, while about 1 million people in the world have tried the Academia Barilla products. In 2009, the company's revenues exceeded 10 million euros.
Academia Barilla also promotes and organizes successful cultural activities, like Storie di Cucina, an annual film award given to short films related to food. In 2009, Academia Barilla published a book called "La cucina regionale italiana. I grandi cuochi, i loro segreti," a story of the regional food traditions told by 30 young Italian chefs. And in 2010, the organization will be coming out with two new editorial projects.
Academia Barilla has a strong web presence thanks to its new web portal, published in both English and Italian. (http://www.academiabarilla.com) website is a fundamental communication tool that allows the organization to further accomplish its mission of spreading Italian food culture. In the first year, the site received over 1.5 million page visits from readers in over 100 countries in the world. Visitors to the site viewed traditional Italian recipes, looked for books in the digital gastronomic library and read about the history of Italian products and regions.
For more information, contact:
Ilaria Rossi
i.rossi(at)barilla(dot)it
+39 0521 264060
Visit us at:
Website: http://www.academiabarilla.com
Facebook: http://www.facebook.com/AcademiaBarilla
Twitter: [http://twitter.com/AcademiaBarilla