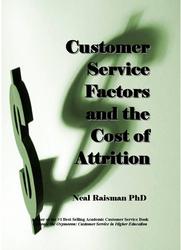 We are very pleased to celebrate this event by providing free digital copies of the book to whomever would like one
Columbus, OH (Vocus) April 22, 2010
Free digital copies of the best seller Customer Service Factors and the Cost of Attrition are being made available by The Administrator's Bookshelf The Administrators' Bookshelf to recognize the complete selling out of the first run of Dr. Neal A. Raisman's Neal Raisman's book. The book includes Raisman's Return on Investment formulas to calculate the actual loss and gain from attrition due to customer service issues.
"We are very pleased to celebrate this event by providing free digital copies of the book to whomever would like one" said Marylin Newell, Editor-in-Chief of The Administrator's Bookshelf. "All someone needs to do is just email a request to us at info(at)Adminbookshelf(dot)com and we will send it out."
Customer Service Factors and the Cost of Attrition was written by Neal Raisman to help managers and administrators calculate the actual costs of attrition from customer service lapses. The book and its formulas came out of his work with colleges, universities and the businesses that work with them but can be applied to any business. Raisman is the internationally recognized expert on customer service as it applies to higher education. He has worked with over 270 colleges, universities and businesses such as Aramark Corporation helping them provide better customer service to one of the most important consumer markets – 19-25year olds.
"Giving away the book now helps us move forward in our mission to really help administrators and managers improve their skills and ability to succeed efficiently and do so with less stress" Newell said.
"We started The Administrators Bookshelf with that goal primarily and believed if we did that, our success would follow. I'm pleased to say it has. We do not carry a large line of books but each one gets our full attention so we can make the author a success too."
"The Administrator's Bookshelf is also looking for its next bestseller and welcomes both proposals and submissions. All a potential author needs to do is send a proposal or a manuscript to me at mnewell(at)adminbookshelf(dot)com. Though we do focus on the academic market we are currently starting to branch out to other major markets so this is a good time to send an idea."
To obtain a copy of Customer Service Factors and the Cost of Attrition email a request to info(at)adminbookshelf(dot)com.
###