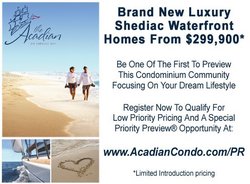 This Condominium project is a guaranteed winner with the incredibly strong Canadian Market and unmatched luxury in this and even surrounding communities
Shediac, NB (PRWEB) May 27, 2008
The Acadian is the first luxury waterfront condominium project in Shediac New Brunswick. "This is an amazing opportunity for anyone looking for a luxury waterfront home as nothing like this has ever been offered around here". - Sylvio Leblanc VP of Leby Fixtures and Interiors
The Acadian on Shediac Bay, has been designed as a community of convenience, comfort, and future appreciation. Future owners will walk to retail stores, restaurants and health services.
The first phase of The Acadian condominium community will soon be released to their growing list of exclusive priority preview registrants. People on this Priority list will have access to special preview pricing. Registration for this special list is available at http://www.acadiancondo.com/pr.
The Acadian is minutes from the Moncton International Airport, right on the bay in Shediac, these condominiums have been designed to complement and enhance the serene, peaceful waterfront lifestyle that thousands have enjoyed for almost a century. They add luxury and convenience that is brand new in Atlantic Canada.
Please go to http://www.acadiancondo.com/pr to register and qualify for low pre-construction Priority Pricing and a special Priority Preview® Opportunity.
Shediac is known as the "Lobster Capital of the World", with the warmest salt-water north of Virginia. Residents of The Acadian will enjoy the warm salt-water, swimming and fishing, and the awesome Eastern Canadian sunsets from the comfort of their four-seasons enclosed private balcony.
The Best of Canada and the Best of Shediac at The Acadian on Shediac Bay. "This Condominium project is a guaranteed winner with the incredibly strong Canadian Market and unmatched luxury in this and even surrounding communities" - Harley Nakelsky VP of The Kates Marketing Group.
Shediac, and nearby Moncton, are fully bilingual with a diverse blend of cultures. A visit to Shediac is like no other in the world. You will love being a part of this brand new, convenient, bilingual community. New condominiums are priced on a priority basis from $299,900. Early registrants will benefit from priority availability and extremely low introductory pricing.
###