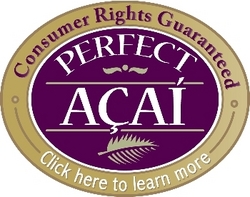 We absolutely applaud the Better Business Bureau (BBB), they are correct in warning people about the numerous Acai scams that are out there
New York, NY (Vocus) January 13, 2009 –-
Power Supplements today launched its Perfect Acai Consumer Bill of Rights. Consumers today are bombarded with various Acai scams that have correctly drawn the attention of the Better Business Bureau (BBB) and numerous consumer complain organizations. The Perfect Acai Consumer Bill of Rights is a guarantee that when you purchase the Perfect Acai brand your consumer rights will be protected.
The Acai berry has gained international recognition as one of the highest antioxidant fruits in the world. Dr. Perricone named the Acai berry as the #1 Superfood on the Oprah Winfrey show. Acai has been featured on the Today Shows CBS Early Show, Wall Street Jounal and the New York Times. In addition to the incredible antioxidant levels in the Acai berry, the Acai berry is rich in anthocyanins, fiber, healthy omega fats, amino acids, protein, plant sterols, vitamins and minerals.
While the Acai berry is clearly a nutritious food, there are numerous companies that are trying to take advantage of consumers. The Internet is overflowing with "free trial Acai offers" and sites that feature pictures of Oprah and incredible testimonials of weight loss. The problem is that the "free trial offers" are not free – the fine print says you will be billed up to $90 a month. In addition, Oprah has never endorsed any of these Acai weight loss products. On January 5, 2009 the Better Business Bureau (BBB) issued a warning to consumers about Acai companies that are using misleading sales and marketing practices.
To make sure that consumers are not mislead and have their rights protected when purchasing Acai, PowerSupplements.com has launched their Perfect Acai Consumer Bill of Rights. "We created our Acai Consumer Bill of Rights because we wanted consumers to know that there are still reputable companies selling Acai," states Dan Nessel, Head of Research at PowerSupplements.com. "We absolutely applaud the Better Business Bureau (BBB), they are correct in warning people about the numerous Acai scams that are out there," Nessel states. "We created our Perfect Acai Consumer Bill of Rights so consumers would know that there are still high quality Acai berry supplements on the market that do not partake in misleading sales or marketing practices."
The Perfect Acai Consumer Bill of Rights is available online at PowerSupplements.com. Among the rights guaranteed are that a consumer will never be autobilled for any products and there are no membership programs that need to be canceled. Nessel is hopeful that other Acai companies will follow their lead and put in writing exactly how the consumer will be treated.
"The Acai berry is an incredible fruit, that is really helping people here and in the Amazon Rainforest," states Nessel. "It would be a real shame if the action of a few dishonest companies tarnished the true benefits of the Acai berry. We welcome other companies in joining our program to guarantee the rights of anyone who wants to try the Acai berry."
About Power Supplements, LLC:
Power Supplements, LLC develops nutritional supplements based on science and is the inventor of the Perfect Acai line of supplements. The Perfect Acai product line has become the standard by which other Acai supplements are judged. Perfect Acai is made with 100% Freeze Dried Organic Sambazon Acai – with no fillers, flowing agents, malodextrin or Acai seeds.
Contact:
Bob Peters, Director of Communications
PowerSupplements, LLC
646-827-9222
###