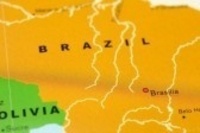 Consumers should seek out pure freeze dried acai products that contain the entire pulp and skin of the berry but not the seed.
New York, NY (PRWEB) October 13, 2009 -
The international acai berry products distributor that operates the website http://Organic-Acai-Berry.com says the supplement Perfect Acai is the best value among the various acai supplement products available and contains pure organic freeze-dried acai with nothing else added. Many other popular products contain only extracts of the acai fruit in addition to many other ingredients.
The product Perfect Acai contains authentic hard-to-find pure freeze dried acai and no additional ingredients. Perfect Acai uses only Fairly Traded, Certified Organic acai powder from one the most reputable suppliers in the world. There are no other ingredients in Perfect Acai such as fillers, carrying agents, preservatives or caffeine.
Organic-Acai-Berry.com believes the best acai berry products should contain the entire freeze dried skin and pulp from the acai fruit and not just extracts. In other words the product should contain freeze dried pure acai and nothing else. The fruit and pulp of the berry contains a multitude of vitamins and antioxidants while supplements containing only extracts from the fruit contain only a portion of the potential nutrients of the Brazilian berry. Company spokesperson Charles Lynch says, "Consumers should seek out pure freeze dried acai products that contain the entire pulp and skin of the berry but not the seed." According the Lynch, the seed or pit, which is often called endocarp on ingredients labels, is essentially just a filler since the seed has little nutritional value.
From a dollar value standpoint, in addition to being a high quality pure acai product, each bottle of Perfect Acai contains 120 capsules containing 500 mg of pure acai powder while most competitors offer only 30 or 60 capsules in a bottle for about the same price. The company offers quantity discounts when ordering over 3 bottles, over 6 bottles and over 12 bottles. Lynch says Perfect Acai is far and away the very best value. He adds that especially when the quality factor is added in, there are few comparable acai supplements that offer authentic organic acai powder as it's sole ingredient. All orders over 3 bottles get free shipping anywhere in the United States.
Charles Lynch also reminds consumers to avoid products that offer free trials because in the past year, thousands of consumers have become victims of the now well publicized phony free acai berry offers that have been so prevalent on the internet. Organic-Acai-Berry.com and its affiliated companies have been warning consumers about these bogus offers on its websites, blogs and in press releases since they first appeared, and those warnings are still relevant. These bogus free offers continue to be a widespread problem for consumers because they are mostly schemes to trick people into enrolling in monthly auto-shipment programs, which are extremely difficult to cancel.
But beyond the misleading marketing, consumers should be concerned about the quality of the acai supplements sent with the free offer scams. He says it is hard to imagine that these type merchants would provide a good product.
Lynch also strongly recommends that consumers avoid products that do not fully disclose the ingredients including products that list that the ingredients are a proprietary blend, which only means the true ingredients are not being disclosed. In order to make shopping for acai berry products easier, the company has published a buyers guide on its website in addition to publishing the ingredients labels for all products that are offered on the website. People concerned about acai berry side effects should read the company's web page which xplains tht this is not much of an issue when buying pure acai because pure acai is nothing more than fruit.
Reading the ingredients label on a product can substantially help consumers determine the quality of what they are buying. Some ingredients labels indicate products that contain many other ingredients, often including large amounts of caffeine or other substances. But many free offer websites pushing the free offers do not even display the ingredients label online, which should be a big red flag to consumers.
The best bet, according to Lynch is that consumers should always read ingredients labels before purchasing any supplement, and should always steer clear of free offers. Lynch adds "Perfect Acai is our favorite acai product because it fits all of our essential criteria for selecting a quality acai product which includes potency, purity, and price and it's our best way to get pure authentic acai outside of Brazil."
Perfect Acai recently introduced a jarred version of its organic acai powder with each jar having 95 grams of the same pure acai that is contained in the capsules.
###