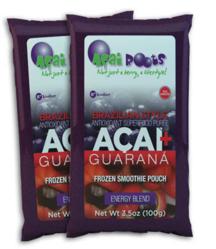 Our Brazilian Style Energy Blend takes you to Rio, without the 10+ hour flight
San Diego, CA (PRWEB) May 11, 2011
Acai Roots™, a lifestyle brand, supplier of natural and organic Brazilian Style super food acai products, announced today the newest addition of its popular frozen smoothie pouch line: Brazilian Style (Acai + Guarana) Energy Blend, the second Acai Roots smoothie pouch flavor, joins the company's previous Pure (unsweetened) Acai.
"This new product takes us back to our roots, since it literally recreates the experience people have with acai in Rio de Janeiro, Brazil, where acai is normally blended with guarana," stated Marco Rega, Acai Roots co-founder and Director of Sales.
As with all Acai Roots products, the Energy Blend (Acai+Guarana) smoothie pouch is made with natural acai fruit pulp and is packed with antioxidants, vitamins, nutrients, omegas; and guarana seed extract for a natural and sustained energy boost. The new product is ideal for healthy-conscious/active consumers and is perfect for making acai bowls and smoothies, or ready to eat as a delicious premium fruit bar.
"The timing was just right to expand this line and introduce the Brazilian Style Energy Blend. Acai and Guarana were first mixed in Rio de Janeiro back in the early 80's to create a delicious, nutritious and energetic combination, providing athletes of all kinds: antioxidants, sustained energy, and great recovery after intense workouts. Our Brazilian Style Energy Blend takes you to Rio, without the 10+ hour flight," said Igor Pereira, Acai Roots co-founder and CEO. "It is definitely the most authentic and freshest acai experience in the market," added Pereira.
Acai Roots' Brazilian Style (Energy Blend) smoothie pouches come in a 4-pack bag. The product is available nationwide through http://www.acairoots.com and will hit retail stores in May with SRP of $5.99.
ABOUT ACAI ROOTS™
Have you ever missed something from your childhood? Something that was phenomenally good for you, and you knew it? That was the feeling that gripped several Brazilian expatriates one day in 2005. They had just finished playing soccer in San Diego.
"We had all grown up with acai, and we started talking about how great it was in Rio with that active lifestyle - the Cariocas of Rio are famous for having an active lifestyle and a balanced diet, and acai is a big part of that. That was the missing piece: the acai. There were companies bringing it to the U.S., but it just wasn't what we grew up with - it wasn't fresh. So we decided to start Acai Roots™, and do it right."
Today Acai Roots™ offers a full line of delicious and healthy acai berry products including organic acai sorbet, organic juices, smoothies and supplements. All formulated to exacting standards by Brazilians who were born and raised on a healthy diet of acai.
For more information, please visit http://www.acairoots.com. You can also Like Acai Roots™ on Facebook or follow us via Twitter @acairoots.
###