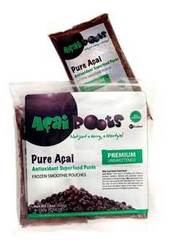 Increasing our distribution for this premium product will certainly strength our wholesale position locally
San Diego, CA (PRWEB) November 30, 2010
Acai Roots™, a leading supplier of Amazon-grown acai berry products, announced today it has recently joined forces with a national food-service distributor for wholesale distribution and sale of its Frozen Acai Smoothie Pouches throughout the San Diego (CA) region.
With a new distributor now offering their premium frozen acai pulp to numerous local food-service customers, Acai Roots™ hopes to gain even more territory in this already predominant district.
"Our brand awareness in San Diego is very strong, and there is a large demand in the area for our products," said Igor Pereira, Acai Roots™ CEO. "By adding another distribution channel in the region, we expect to gain a lot more territory and efficiency in the area." added Pereira.
"The demand for our acai pulp is constantly increasing, both locally as well as nationwide. Increasing our distribution for this premium product will certainly strength our wholesale position locally," said Marco Rega, Director of Sales at Acai Roots™.
Acai Roots™ Pure Acai Smoothie Pouches are a perfect option for those looking to offer acai smoothies and acai bowls at their establishments - two already very popular menu items in Southern California that are gaining much popularity throughout the entire United States territory.
For more information about the company, and further inquiries regarding distribution please visit http://www.acairoots.com.
About Acai Roots™
Acai Roots™, not just a berry, a lifestyle!™, is a leading supplier of Amazon-grown Brazilian acai berry products. The company was founded in 2005 by native Brazilians who, upon finding the acai available in the United States disappointing, decided to bring the real deal themselves. Its founders are committed to their original objective: "bring delicious, authentic and healthy Brazilian-style acai to America, along with its lifestyle."
Acai Roots™ products are made with natural wild harvested acai berries from Belem - region in the State of Para where Brazil produces its "cream of the crop" acai (depending on the region it is harvested, the nutritional facts and taste may vary). The company manufactures and distributes a full line of pure acai berry products formulated to exact standards by native Brazilians. Acai Roots™ is dedicated to supporting the sustainable harvesting of acai berries in the Brazilian Amazon which helps protect the rainforest and supports local communities in Brazil.
Media Contact:
Rodrigo Bosco Correa
Marketing Manager - Acai Roots
rbosco(at)acairoots(dot)com
(866) 401-2224
# # #