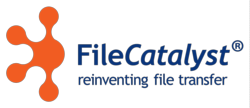 Ottawa, ON (PRWEB) September 28, 2012
Unlimi-Tech Software, Inc., a pioneer in managed file transfers and creator of FileCatalyst, the world's leading accelerated file transfer solution, is pleased to announce the release of FileCatalyst Direct v3.1 at the Interop show expo, held October 3–4 at the Javits Center in New York.
This new release adds a host of new features, including virtual folders and group functionality. These features will allow administrators greater flexibility when assigning access permissions to various file sets. A user may now access a file through their own home directory or through one of their assigned groups. Furthermore, virtual folders will allow the users to access files from several locations across different directories or storage mediums from a single user account, resulting in files appearing to be part of the user's home directory structure.
At Interop, Unlimi-Tech will be displaying its 10 Gbps file transfer technology as well as its growing suite of mobile file transfer applications for iOS and Android. FileCatalyst is the world's only file transfer software solution capable of transferring a single large file at a full 10 Gbps; competing solutions must send several files in parallel to achieve the same speeds.
Other FileCatalyst technologies on display will include FileCatalyst Central, FileCatalyst Webmail, and FileCatalyst Workflow.
"We are excited to present our industry leading managed file transfer solutions to the IT community, " says Chris Bailey, CEO at Unlimi-Tech. "The Interop trade show has always provided us an amazing forum to release new features."
Unlimi-Tech has also recently launched its Partner Alliance program, and is actively seeking new partners. Value Added Resellers, System Integrators and Distributors as well as Cloud Service Providers interested in joining the FileCatalyst Partner Alliance program can contact the company at http://www.filecatalyst.com/partners/.
Visit with the folks behind FileCatalyst at next week's Interop show in New York at booth 726. For more information about FileCatalyst, to book a meeting at the show, or to get a free Expo pass visit http://www.filecatalyst.com/filecatalyst-at-interop
About Unlimi-Tech Software
Located in Ottawa, Canada, Unlimi-Tech Software is the creator of FileCatalyst, the world's leading accelerated file transfer solution. Founded in 2000, the company has more than a thousand customers in media & entertainment, energy & mining, gaming and printing, including many Fortune 500 companies as well as military and government organizations. FileCatalyst is a software platform designed to accelerate and manage file transfers securely and reliably. FileCatalyst is immune to the effects that latency and packet loss have on traditional file transfer methods like FTP, HTTP or CIFS. Global organizations use FileCatalyst to solve issues related to file transfer, including content distribution, file sharing and offsite backups. For more information, please visit http://www.filecatalyst.com