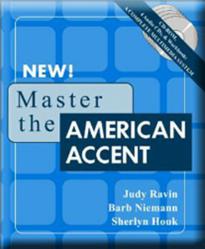 Ann Arbor, MI (PRWEB) February 06, 2013
Language Success Press announces release of its new guide "10 Best Practices for Teaching Accent Reduction." The guide is now available on the Language Success Press website.
Contributors to the guide include Judy Ravin and Barb Niemann of the Accent Reduction Institute. They are also co-authors of the accent reduction system Master the American Accent, published by Language Success Press. Four other pronunciation specialists also contributed to the best practices guide.
The guide features 10 easy-to-follow tips to use when teaching accent reduction either one-on-one with private students or in the classroom.
"Since its founding in 2002, Language Success Press has been a leading provider of accent reduction materials," says Tanya Peterson, Marketing Director of Language Success Press. "Many of our clients are instructors who teach ESL in language schools and universities. We're delighted to be able to offer them this useful guide."
Among the best practices in the guide is that teachers should help students understand what each sound in English looks like. How should students form their mouths, lips, and tongue to make the sounds of American English? "Providing many techniques for phoneme discrimination is critical for adult learners and gives them an increased ability to self-correct," say accent reduction specialists Judy Ravin and Barb Niemann.
Another tip is to have students use a mirror. The instructor should ask the student to watch her as she exaggerates the pronunciation of a difficult sound. The student should then do the same thing in front of a mirror. "Using a mirror is simple and low tech," says Sharlene Vichness of Language Directions.
In addition to Master the American Accent, Language Success Press also publishes the bestselling accent reduction guide Lose Your Accent in 28 Days. The publisher also offers Inglés ¡Qué buen acento!: an English pronunciation guide for native Spanish speakers and Say Goodbye to Your Southern Accent, for those with a Southern dialect who seek to speak English in a more neutral way.
About Language Success Press
Language Success Press is a premier publisher of books, CDs, and apps to help people improve their conversational American English. The company specialties include books and CDs for accent reduction, business English and everyday English. Popular titles include: Lose Your Accent in 28 Days, Speak English Like an American, and Speak Business English Like an American. The company offers five ESL apps, including the new app, Say it Better in English for iPad. To order ESL books and CDs from Language Success Press and to find out more about its growing line of ESL apps, please visit the Language Success Press website. Follow the company on Twitter: @LanguageSuccess. For more information, contact Tanya Peterson at Language Success Press: Tanya(at)languagesuccesspress(dot)com