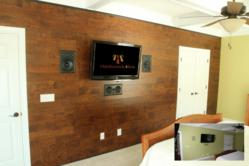 We wanted to show our customers how versatile hardwood flooring can be by creating this beautiful accent wall out of our engineered hardwoods
Greensboro, NC (PRWEB) January 22, 2013
Hardwoods4less showcases a wooden wall accent system, illustrating a unique way to design a warm and inviting living space or work area using hardwood flooring.
"We wanted to show our customers how versatile hardwood flooring can be by creating this beautiful accent wall out of our engineered hardwoods," says Hardwoods4less owner, Clayton Peebles. "It's also an inexpensive way to bring drama and style to a space in need of some fresh design."
An accent wall is used to create a focal point in a room. Making one using hardwood flooring can add a surprise element to the space. It's a design element that can be incorporated during anytime of the year and complements a range of interior design styles.
For the Hardwoods4less hardwood flooring accent wall demo, five boxes of 5" x 3/4" Birch Heritage hand-scraped engineered hardwood flooring were used. Each box contained 26.25 square feet of flooring. At a rate of $2.49 per square foot, the total cost for the hardwoods came out to $326.81. The hardwoods, like all the Hardwoods4less prefinished hardwood flooring products, are topped with a durable topcoat of 8 coats of finish.
The square footage of the wall, doors included, is 175 square feet. The total square footage of the wall covered by engineered hardwood flooring is 130 square feet.
The tools used to create the accent wall included a caulk gun for adhesive, a chop saw, a jigsaw, and a screw driver. As for the adhesive, liquid nail panel construction adhesive was used. Each 10 oz. tube covered approximately 17 square feet of hardwood flooring planks. The Home Depot part number for the tube is 022078454035. The cost per tube is $3.57.
It took two hardwood flooring installers a total of about 8 hours of labor to complete this project.
"This is a project homeowners, if they choose to, can take on themselves over a weekend," says Peebles. "Just remember to measure twice and cut once."
For homeowners and businesses interested in more information about creating a a hardwood flooring accent wall made out of engineered hardwood flooring, visit http://www.hardwoods4less.com.
Contact:
Business Information
Hardwoods 4 less, LLC
1921 Strathmore Drive
Suite A
Greensboro, NC 27410
Phone: 888-705-7555
Fax: 336-273-1598
Website: hardwoods4less.com
Email address: Sales(at)hardwoods4less(dot)com
Affiliations:
Better Business Bureau
National Hardwood Flooring Association