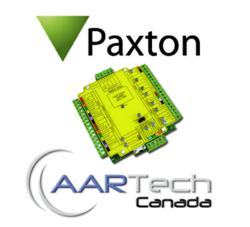 Electronic Access Control provides a secure, flexible and cost effective means to provide protection and security.
(PRWEB) February 08, 2012
Aartech Canada has announced their partnership with Paxton Access to distribute their line of standalone and network integrated access control solutions.
In today's environment, corporations, government, hospitals and educational facilities find it increasingly necessary to protect their employees, visitors, assets and property. Electronic access control provides a secure, flexible, manageable and cost effective means to provide protection and security without causing undue burden to the people who use the systems. The use of numeric PIN passwords or electronic tokens or cards to access secure areas of buildings, ensures that doors are never left unsecured and there is no longer a need to re-key locks as a result of an employee not turning in their keys. Users or guests can be granted access to certain areas and denied access to others, and access may be restricted based on a flexible schedule. In addition, access control solutions can be used for time and attendance and can be integrated with alarm and security camera systems.
Paxton Access offers a unique and wide array of access controllers, readers, keypads, access tokens and locks, backed by an industry leading 5 year warranty and in-house technical support. Their systems are designed with expansion in mind so they will grow with customer's needs while being easy to operate.
As part of the launch, hands on dealer training sessions are being held in Toronto (Feb 29th) and Montreal (April 26th). Attending dealers will be trained on installation and operation and will be part of the PAX1000 program providing additional ongoing training as well as access to dealer tools and awards programs. For more information on training please contact Aartech Canada at 1-877-760-3105.
About Aartech Canada Inc
Aartech Canada Inc is a rapidly growing, fully Canadian owned and operated distributor of home automation and security products based on Oshawa, Ontario. Aartech Canada's business continues to be built on a strong commitment to customer service and a desire to offer unique, high quality and exciting products to Canadian customers with local Canadian support.
About Paxton Access
Established in 1985, Paxton Access is a recognized leader in the design and manufacture of electronic access control systems. Paxton's head office and manufacturing facility is located in the UK with regional offices in North America and throughout the world.
For more information, contact:
Robert Mowles
Aartech Canada Inc
1-877-760-3105 ext 221
http://www.aartech.ca
###