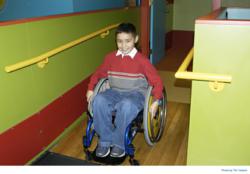 The award-winning exhibit, access/ABILITY, helps create positive awareness of people living with disabilities.
San Diego, CA (PRWEB) October 09, 2012
In conjunction with California Disability History Week, "access/ABILITY" opens at the San Diego Museum of Man (SDMoM) on Saturday, October 13, 2012. This inspiring exhibition helps create positive awareness of people living with disabilities. The "access/ABILITY" exhibition will be on display at SDMoM until June 30, 2013.
This unique, award-winning exhibit was created by Boston Children's Museum. Highly interactive, yet sensitive, it delivers the message to children, parents, and educators that, as human beings, we are more alike than different. Visitors can learn phrases in American Sign Language, type their names in Braille, try a hand-pedaled bike, wear a blindfold on a multi-sensory "City Walk," try a wheelchair on a ramp, and more. Throughout the exhibit, My Way kiosks introduce individuals living with disabilities who talk about themselves, their accomplishments, and how they overcome challenges in their lives.
"We couldn't be more proud to bring this extraordinary exhibit to our community," said SDMoM CEO, Dr. Micah Parzen. "Not only does it offer a hands-on glimpse of how people with disabilities actively participate in our world, but it also perfectly embodies our mission of 'Inspiring human connections by exploring the human experience.'"
"access/ABILITY" was created by Boston Children's Museum and sponsored nationally by MetLife Foundation. Local support for "access/ABILITY" is provided by Access to Independence; Barney & Barney, LLC; Dowling & Yahnke, LLC; Dr. Seuss Foundation; Ellen Browning Scripps Foundation; Foundation for Developmental Disabilities; Gary and Mary West Foundation; Goodwill Industries; McKenna, Long & Aldridge, LLP; MG Properties; Procopio, Cory, Hargreaves, & Savitch, LLP; The Price Family Charitable Fund; Puente Consulting; and the Viejas Band of Kumeyaay Indians.
About SDMoM: AAM Accredited and Smithsonian Affiliate
Located beneath the ornate 200-foot California Tower, SDMoM is Southern California's only museum devoted to anthropology and archaeology. With its Spanish colonial and mission-style architecture, the landmark building was originally constructed for the 1915 Panama-California Exposition. Today, SDMoM is dedicated to using its world-class collections, dynamic exhibits, and compelling educational programs and events to fulfill its mission of Inspiring human connections by exploring the human experience. For more information about SDMoM, please visit http://www.museumofman.org.
About Boston Children's Museum
Boston Children's Museum exists to help children understand and enjoy the world in which they live. It is a private, non-profit, educational institution that is recognized internationally as a research and development center and pacesetter for children's exhibitions, educational programs and curriculum. Boston Children's Museum incorporates two strategies – engaging families and building communities – to impact five outcome areas for children: Creative Kids, Curious Kids, Global Kids, Green Kids and Healthy Kids. More information about Boston Children's Museum can be found at http://www.BostonChildrensMuseum.org.
About MetLife Foundation
MetLife Foundation was established by MetLife to continue the company's long tradition of corporate contributions and community involvement. Grants are made to support health, educational, civic and cultural organizations and programs. The Foundation contributes to arts and cultural organizations, with an emphasis on increasing opportunities for young people, reaching broad audiences through inclusive programming, and making arts more accessible for all people. For more information, please visit http://www.metlife.org.
For more information or to schedule an interview with SDMoM CEO, Dr. Micah Parzen, or the COO, Dr. Rex Garniewicz, please contact Hope Carlson at (619) 239-2001, ext. 16 or hcarlson(at)museumofman(dot)org