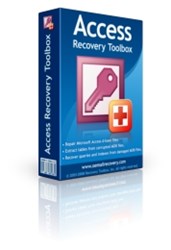 comprehensive solution for deep analysis of damaged Access database files and recovery of their structure and data.
Alexandria, VA (PRWEB) February 06, 2013
Continuing the expansion of its family of advanced recovery tools, Recovery Toolbox releases an improved version of Access Recovery Toolbox, a leading solution for fast and hassle-free Access recovery. Based on a considerably reworked algorithm, the new version of the popular programs offers unparalleled speed, accuracy of Access recovery and ease of use for professionals and regular users who will benefit from the simplicity of step-by-step recovery. The interface of Access Recovery Toolbox was specifically designed to minimize the user's involvement in the process and make Access recovery as intuitive and straightforward as possible. The software automatically recovers Access *.mdb and *.accdb files and their data, restores the structure of database tables, queries (with the exception of those used in forms and reports) and relations. For extra convenience, the built-in database viewer allows the user to preview recoverable data and structures before restoring them. The software fully supports files created in Access 2003 and later versions.
"We are proud to have created one of the very best Access recovery tools available on today's market," says Victor Bobrov, a Senior Developer at Recovery Toolbox. "Without doubt, this small tool has already saved an immense amount of critical data and this figure will grow with every new release and every new user of Access Recovery Toolbox."
The trial version of Access Recovery Toolbox is available for immediate download from the manufacturer's website. All Recovery Toolbox products are thoroughly tested with industry-leading anti-virus tools prior to be published on the official site: http://www.oemailrecovery.com/access_recovery.html