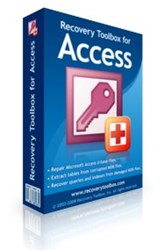 an Access recovery tool with advanced functionality and outstanding ease of use.
Chicago, IL (PRWEB) April 23, 2013
Recovery Toolbox, a well-known provider of reliable, stable and ultimately efficient file repair and data recovery tools, is glad to announce the release of Recovery Toolbox for Access, an all-in-one tool for comprehensive recovery of data from damaged Microsoft Access MDB and ACCDB databases. This Access recovery tool restores the original structure of database tables, data in these tables, queries (except those used in reports and forms) and relations within the database.
The built-in database browser makes it possible to preview the contents of damaged databases prior to recovering them. The interface of the program is simple enough even for users who have minimal or no recovery experience of any sort. The recovery engine of the program makes absolutely no modifications to damaged source files, enabling users to resort to alternative Access recovery software, methods and services.
"Our Microsoft Access recovery tool is currently one of the most efficient, easy-to-use and to-the-point applications on the market that outperforms most of it closest competitors and clearly takes the lead in terms of overall simplicity and intuitiveness," explains Victor Bobrov, Senior Product Manager at Recovery Toolbox. "We really hope that the new release will be a major improvement and will help many more people cope with the consequences of data corruption incidents and get back to work as soon as possible."
The free trial version of Recovery Toolbox for Access is available for download from the manufacturer's official website.