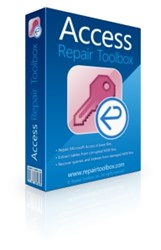 Access Repair Toolbox has been significantly improved to offer a new level of database recovery efficiency.
Alexandria, Va. (PRWEB) February 25, 2013
Repair Toolbox, known for its growing line of compact, fast and efficient data recovery solutions, presents the newest version of its popular Access repair tool, Access Repair Toolbox.
The new edition of the award-winning program is based on the substantially improved recovery engine and database analysis algorithms that minimize the time needed for restoring data from badly damaged MDB and ACCDB databases. This Access repair solution performs deep analysis of the internal database structure, repairs database tables, table linking, queries and restores data even in situations when other products fail.
The interface of the program uses a step-by-step wizard for quick and hassle-free Access repair that can be performed by users with no previous data recovery experience and no special skills. The built-in database browser makes it possible to preview the data to be recovered prior to proceeding to Access repair.
"Compared with other recovery tasks, database recovery is often associated with a risk of losing valuable data and requires more skill and tools of corresponding quality," explains Ivan Bobrov, Senior Product Manager at Repair Toolbox. "Our ultimate goal was to create a product that would let users get the job done without fear of causing further damage to the already corrupted database. I think we did a pretty good job with Access Repair Toolbox and achieved the level of recovery efficiency that is still unattainable for most of its closest competitors."
Access Repair Toolbox is fully compatible with major Windows versions and can be downloaded directly from the manufacturer's website: http://www.accessrepairtoolbox.com/