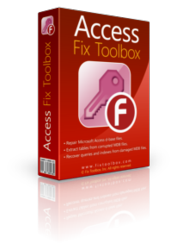 a flexible and fast recovery tool that sets a new standard of high-quality database recovery for all categories of users.
Sacramento, CA (PRWEB) May 08, 2013
Fix Toolbox, a company known for its deep expertise in the field of data recovery solutions and file repair products, releases Access Fix Toolbox, a database recovery tool that enables regular non-professional users to efficiently restore data from damaged Access database files. The program features a highly intuitive user interface and a completely revamped file analysis and recovery engine that is capable of restoring data even from seriously corrupted Access database files. This Access database error fix software supports *.mdb and *.accdb file formats and has no limitations on the size and structure of database files. Access Fix Toolbox turns the recovery process into a series of simple steps that can be successfully completed by any user, even one with no IT background. The product offers a comprehensive approach to data recovery and restores all elements of damaged databases: user tables, table relations, queries and so on. Apart from this, the built-in viewer enables users to preview recoverable database elements prior to restoring them.
"The updated Access Fix Toolbox sets a new standard for specialized database recovery tools. This Access database error fix can be used by anyone – and that's one of its key advantages," says Boris Bobrov, Senior Product Manager at Fix Toolbox. "We are determined to offer a product that is better than its competitors in a lot of ways, and we have been very successful so far with tons of positive feedback from our users."
The trial version of Access Fix Toolbox is available for download from the manufacturer's website: http://www.fixtoolboxx.com/download.html