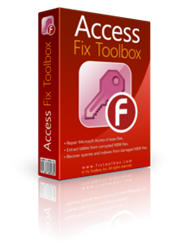 Access Fix Toolbox offers the restoration of Microsoft Access databases in any size and version.
Alexandria, VA (PRWEB) December 10, 2012
Access database fix services, powered by Access Fix Toolbox, are the only way to recover sensible or business critical information, stored in MS Access documents. Users should not worry about the integrity of Microsoft Access databases as soon as they get Access Fix Toolbox and start implementing Access database fix services on their computers. This way of data restoration permits resolving the latest modifications of database files, it provides higher efficiency than regular backups.
Access Fix Toolbox customers know it is the easiest Access database fix software, supporting all available software configurations. This program offers the restoration of Microsoft Access databases, providing the highest efficiency of data recovery regardless the hardware in use, the size of input document to be parsed and, of course, it does not really matter why specified databases in MS Access format get damaged and there is no way to access these files normally.
Powerful Access database fix services, provided by this application, suggest friendly interface and easy system requirements therefore our users do not have any difficulties during the analysis of Microsoft Access documents. This tool guarantees the integrity of database structure in all instances of damage, besides this program works with copies of input information and does not modify the information in use.
Fix Toolbox software developer has a wide range of various tools and services for many data formats and PC workstations. This company provides data recovery tools and services for more than twenty applications and corresponding data formats. The postal address of Fix Toolbox is: Pacific Business Centre, P.O. Box 34069 #381, Seattle, WA 98124-1069, USA
Software site: http://www.fixtoolboxx.com/
Full description: http://www.access.fixtoolboxx.com/