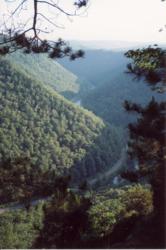 ...the best experience for someone to get back to a really nice vista.
Wellsboro, PA (PRWEB) March 05, 2012
July 26, 2012 marks the 20th anniversary of the passing of the Americans with Disabilities Act. This act guarantees equal opportunity for people with disabilities in public accommodations, commercial facilities, employment, transportation, state and local government services and telecommunications. Over 19 million people age 5 and older have difficulty walking or climbing stairs and may need the assistance of a wheelchair. Using a wheelchair in Tioga County does not limit your outdoor experience in the home of Pennsylvania Grand Canyon.
State and federal parks offer accessible trails and boat launches. Barbour Rock Trail in Colton Point State Park (the west rim of the canyon) is a completely handicapped accessible 0.7 mile trail starting on the west rim and ending at a beautiful vista overlooking the Pennsylvania Grand Canyon. The trail surface is packed limestone. Roy Seifert, District Forester for the Tioga State Forest said, "Barbour Rock Trail is the best experience for someone who wants to get back in to a really nice vista. We recommend soft tire chairs as the narrow hard ones are tough to navigate." The average trail grade is approximately 3% with some sections going as high as 6%. Like all trails within the Tioga State Forest, motorized vehicles are not permitted except for people with a mobility disability who may use an electric powered wheelchair or other electric powered, one person capacity, mobility device on the handicap accessible trail. For those looking for a nice view without too much effort, the main overlook at Leonard Harrison State Park (east rim of the canyon) offers a beautiful view.
The 62-mile long Pine Creek Rail Trail which traverses the bottom of the Pennsylvania Grand Canyon is also accessible. The crushed limestone gravel surface is best traveled with soft tire chairs. There are a multitude of parking access areas to this trail stretching from the northern terminus just outside of Wellsboro, Pennsylvania, to the southern terminus in Jersey Shore, Pennsylvania. This trail is part of the Rails-to-Trails program and follows a level surface with a 2% grade (uphill from south to north).
The Tioga, Hammond and Cowanesque Lakes created by the U.S. Army Corps of Engineers in Tioga County, Pennsylvania are three large lakes that can easily accommodate motor boats for waterskiing, jet skis, sail boats, or smaller craft. Accessible boat launches are located at Ives Run, Hammond Lake and South Shore, Cowanesque Lake. RV or tent campers will find a limited number of accessible campsites at Ives Run (Hammond) and Tompkins (Cowanesque). For those interested in relaxing beach-side, accessible beaches are located at Ives Run, and South Shore. Accessibility is not an issue for those seeking recreation on or near the water.
Interested in fishing? Hills Creek State Park located half way between Wellsboro and Mansfield has an ADA accessible fishing pier at the Pines Boat Launch. For more information check their website.
Lodging reservations are highly recommended before traveling to Tioga County. The Visitors Bureau can assist with planning and the website has an abundance of information about all accommodations available.
###