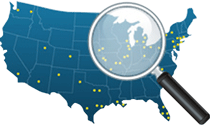 The power of the open road is all yours.
San Diego, CA (PRWEB) May 19, 2011
Accessible Vans of America, LLC, a member-owned organization, is reaching out to the disabled community nationwide in order to provide rental services for wheelchair vans. The organization is made up of independent mobility dealers from all over the country, totaling 55 in 2011. Members cooperate in operating AVA and rent, sell and service handicap vans.
Accessible Vans of America focuses its efforts on converted van rentals, for business and pleasure. The organization is flexible in terms but dedicated in philosophy, promising customers that it only recruits trustworthy and successful mobility dealers in the U.S.
While AVA is not the only united mobility organization of its kind, it is the only one that requires all of its members to be official members of NMEDA, the National Mobility Equipment Dealers Association. This prerequisite ensures that the organization continues to offer the highest standard of wheelchair vans while also recognizing the needs of modern disabled motorists.
Accessible Vans of America lets customers reserve a rental van at any of its 55 locations by calling a toll free number. The company stresses that its automatic routing feature (which sends customers directly to a local dealership) is of convenience to its customers and will reduce the frustration that a person may experience making several phone calls for just one rental.
The company has trusted dealer members in 25 states, reaching most of the United States. Each dealership sets its own rules and qualifying criteria for handicap vans, though the organization holds to an official code of ethics; seven rules that elevate the customer's comfort. The AVA assures nationwide renters that "the power of the open road is all yours."
With 55 part-owning dealerships backing its rental programs, Accessible Vans of America, LLC is one of the most influential organizations in the U.S. dedicated to helping disabled motorists.
For more information on handicap vans, visit http://www.AccessibleVans.com.
About Accessible Vans of America, LLC: The AVA was founded in 1997 and is a member-owned organization that helps bring disabled motorists and local wheelchair vans together with the help of a qualified dealer. In addition to NMEDA involvement, the organization is also a member of The Association for Driver Rehabilitation Specialists (ADED).
###