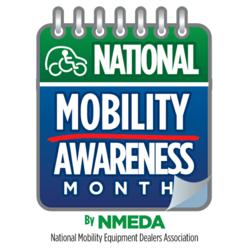 (PRWEB) April 27, 2012
Accessible Vans of America, one of the nation's leading providers of quality wheelchair van rentals, has today announced they will be participating in National Mobility Awareness Month. Designed to promote awareness of individuals with physical disabilities and provide those individuals with greater awareness of their mobility options, National Mobility Awareness Month will be celebrated throughout the month of May.
In conjunction with the National Mobility Equipment Dealers Association, Accessible Vans of America will be taking part in a nationwide contest to honor local heroes overcoming disabilities and adversity. The contest allows anyone to submit stories of local heroes to the NMEDA website. Submissions can be in text form (400 words or less), or in video form (3 minutes or less/50MB).
Friends, family, peers and community members will be allowed to vote for their favorite stories, and three winners will be chosen from the contest. NMEDA will award each of the three winners with a brand new wheelchair van from a top automaker in the industry, such as Chrysler, Honda or Toyota, fully outfitted with the best in modern mobility equipment. In addition, the award ceremonies will be held on national television shows, including Good Morning America, The Today Show and Ellen.
Accessible Vans of America encourages everyone to submit a story for their local heroes, and offers friends and family to use their special code 577 when voting. While the code can only be used once per person, it gives five additional votes to the specific story. Story submissions will be accepted through May 13, 2012. Voting will run from the first day of April through May 13.
To find out more about submitting a story or voting for a local hero, visit the company at http://www.AccessibleVans.com or visit the NMEDA contest page.
About Accessible Vans of America: Accessible Vans of America is a mobility company with a significant difference. While other provides sell handicap vans, Accessible Vans of America rents them at very low rates, with flexible rental plans. Their nationwide-distribution ensures that almost everyone can access the mobility van that they need, for as long as they need.