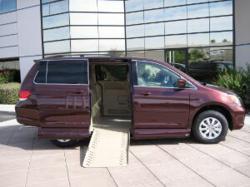 (Vocus/PRWEB) April 12, 2011
Accessible Vans of America, a recognized leader in providing mobility solutions, has today announced the availability of rental wheelchair vans, on a nationwide basis. This offering provides individuals with physical disabilities throughout the nation with access to the highest quality mobility equipment available.
Wheelchair vans have been available in one form or another for several years. However, many of these vehicles were either not available to all customers, or they were too expensive for their budgets. Accessible Vans of America solves both of these problems at a single stroke. With their rental wheelchair vans, those with physical disabilities have access to new models with low mileage, ensuring that they have the solution they need for the best independence and freedom.
Accessible Vans of America offers a wide range of handicap vans, including the Honda Odyssey and the Dodge Grand Caravan, each outfitted with the highest quality mobility equipment. For instance, customers will find wheelchair vans with lowered floors, as well as raised ceilings. Modern equipment can be found throughout all wheelchair vans, including wheelchair lifts, power ramps, power sliding doors and power kneeling systems.
In addition, customers can choose from handicap vans that offer the features they need, such as transfer seats, hand controls, advanced wheelchair tie-down systems and more. However, perhaps the most innovative option provided by Accessible Vans of America is the fact that they will deliver wheelchair vans directly to their customers, at their home. When the rental is over, the company will pick the van up again. This offers immense convenience and timesavings for customers. Combined with nationwide coverage, these features make Accessible Vans of America stand out from other providers.
To find out more about how you can benefit from renting wheelchair vans, visit the company at http://www.AccessibleVans.com.
About Accessible Vans of America: Accessible Vans of America is a mobility company with a significant difference. While other providers sell handicap vans, Accessible Vans of America rents them at very low rates, with flexible rental plans. Their nationwide-distribution ensures that almost everyone can access the mobility van that they need, for as long as they need.
###