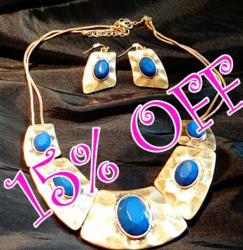 Hattiesburg, MS (PRWEB) December 29, 2012
Goldie Locks Boutique, an online accessories boutique is offering shoppers a way to save on their after Christmas shopping by offering a 15% discount on their entire store. The after Christmas sale is valid through January 1, 2013 with the coupon code "Christmas."
While some stores may end their sales on Christmas, Goldie Locks Boutique is extending their sales through New Year's, hoping shoppers will accessorize their New Year's Eve outfits with their high fashion accessories.
To take advantage of the sale, online shoppers can shop around at Goldie Locks Boutique, and when they checkout, all they need to do is use the coupon code "Christmas." The discount will automatically be added to their order. Shoppers can also save 5% at anytime (not in combination with other offers) by connecting with Goldie Locks via social media. At checkout customers can tweet about Goldie Locks, "like" them on Facebook, or give them a +1 on Google, and receive a 5% discount that is applied to their entire shopping cart.
"We've been thrilled with the success of our online accessories boutique so far. We're very thankful to the response that our customers have given," said Whitney Cornett, founder of Goldie Locks Boutique, LLC.
Goldie Locks Boutique, LLC carries the latest fashion jewelry from fashion rings to cowboy booties for women; a full line of fashion handbags, purses, and clutches; as well as the latest trends in pumps, heels, and boots from a variety of designers. At least once a month they offer new merchandise and styles.
For more information on Goldie Locks Boutique please visit GoldieLocksBoutique.com, Facebook.com/GoldieLocksBoutique, or email support(at)goldielocksboutique(dot)com.