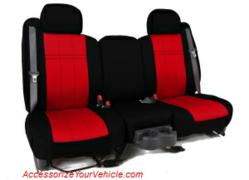 At Caltrend we work very hard to ensure customer satisfaction by contacting every customer to verify their order selection.
Aliso Viejo, CA (PRWEB) June 03, 2013
AccessorizeYourVehicle.com has been installing Caltrend custom seat covers on happy customers cars for over two years. For June of 2013, in addition to offering free installation of Caltrend custom seat covers at Caltrend's Santa Ana facility, AccessorizeYourVehicle.com is also offering a discount of 10%. To obtain the discount, customers should enter the "Caltrend201306" coupon code during checkout.
To qualify for the 10% discount, customer must order two rows of Caltrend Custom Seat Covers. The two rows do not have to be the same fabric or even for the same vehicle.
Caltrend manufactures very high quality custom made seat covers in their facility located in Santa Ana California. All Caltrend orders are personally verified by a courteous member of the Caltrend customer service department before the custom seat covers are produced. This insures that each and every customer receives perfectly fitting custom seat covers that exactly meet the customer's expectations.
Caltrend custom seat covers are available in several different fabric choices and include map pockets, headrest covers and armrest covers at no additional charge. All the fabrics and other materials used by Caltrend are OEM quality or better.
Customers can have their seat covers professionally installed by a member of the Caltrend team at the Santa Ana location. There is no additional charge for the installation.
About AccessorizeYourVehicle.com:
For almost a decade AccessorizeYourVehicle.com has been providing affordable, high-quality accessories for cars, trucks, boats, and ATVs. It offers everything from seat covers to floor mats to anti-theft devices. To find out what AccessorizeYourVehicle.com can do for you, visit http://www.AccessorizeYourVehicle.com.