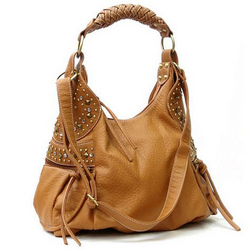 We are just floored by all the press and buzz we are receiving
Fountain Valley, CA (PRWEB) September 12, 2007
Trendy and fashionable is the sought after style today. Every woman wants to be chic and sophisticated. But keeping up with Ms. Jones can be expensive; especially when it comes to those trendy accessories like the glitzy handbags that all the celebrities are carrying.
Now you too can be trendy and stylish at a smidgen of the cost. It may seem too good to be true. But AccessoryBug.com is selling designer handbags for next to nothing. You can get a stylishly fabulous bag that carries a $1500 price tag at department stores for a mere $75 at AccessoryBug.com. Don't be fooled by the low cost! Accessory Bug does not compromise quality in order to sell at reasonable prices that keep the budget fashionista in mind.
In its first few months of operation, AccessoryBug.com has set record sales totals and is meeting the demands of a public clamoring to get in on the fantastic bargains.
The bags are fun and flirty in every size, shape and color. Whether it's an everyday shoulder bag fit for outings in the park or the trudge to work, a hobo carryall that can hold everything but the kitchen sink, a small Poochie or an evening bag- AccessoryBug.com can deliver. The low prices at AccessoryBug.com are such a steal, you can stock up on one of each plus buy enough to give presents to everyone you know.
From bracelets to belts, patent and leather, buckles and bows, AccessoryBug.com can cover you in a chic and trendy lifestyle.
"We created AccessoryBug.com after searching for accessories that are not available at the local mall," said owner, Cathy Chiang. "We search the world for unique designs created by artisans from many countries. Our handbags are extremely well made and, because we're always following the latest fashion trends, our store always carries styles that coordinate with those trends."
If by some chance you're not Internet savvy, AccessoryBug.com is very easy to navigate. You can enter the style, the color, and/or the texture. Voilà! What you're looking for appears immediately before your eyes.
"We are just floored by all the press and buzz we are receiving," said owner Cathy Chiang. "This is an exciting time for us."
As Seen In: Daily Confection-She Unlimited, and many national magazines to follow.
"Customers have already enjoyed shopping for handbags that meet all of their needs on one site," Chiang proudly boasts. "They can immediately find the style and color they're looking for and check out within minutes."
Who doesn't want to be accessory proficient? Spice up your wardrobe with AccessoryBug.com's great buys on belts, bags, wallets and sunglasses. In addition, get fantastic discounts by referring your friends to this great site. Each referral gets you a $5 credit. Besides thanking you for introducing them to AccessoryBug.com, your friend will also receive a 10% discount off of their first purchase! How cool is that?
There's no time to waste. This is an offer you can't refuse. Make a straight line for: Accessory Bug and stock up on all those great things you thought you couldn't afford...but now can!
Contact:
Cathy Chiang, Store Owner (714) 656-3485
Peter Lin, Web Design (714) 656-3485
AccessoryBug.com
info(at)accessorybug.com
###