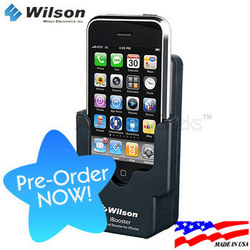 For those who love to be updated with the latest kind of technology, there is a section served for just the Newly Released Packages under the Products section in AccessoryGeeks.com. In this Newly Released Packages section, customers can find the latest cell phone antenna from Wilson Antenna to Cellphone-mate and the newest deals found in the market of cell phone antennas
Walnut, CA (PRWEB) April 2, 2009
AccessoryGeeks.com, a leading retailer in cell phone accessories, announces that the Wilson iBooster amplifier for the iPhone and iPhone 3G can be pre-ordered. The sale price is set at $244.95 with free shipping via USPS.
Some general specifications of the Wilson iBooster amplifier:

Frequency: 824-894 MHz 1850-1990 MHz
Gain: 40 dB / 42 dB
Max Output Power: 1000 mw
Power Requirements: 12V*
Connectors: SMA Female
Dimensions: 2 x 4.75 x 1 (inch) 5.1 x 12.1 x 2.5 (cm)
Weight: 3 (oz) / 0.09 (kg)
AccessoryGeeks offer wide selections of cell phone booster for areas such as home, vehicle, or office building. Free custom cell phone signal booster solutions are available upon request. The solutions range with budget to signal output recommendations. Other recommendations include pre-selected or custom assembled cell phone amplifier combos for home, small office, RV, boat, vehicle, or warehouse.
"For those who love to be updated with the latest kind of technology, there is a section served for just the Newly Released Packages under the Products section in AccessoryGeeks.com. In this Newly Released Packages section, customers can find the latest cell phone antenna from Wilson Antenna to Cellphone-mate and the newest deals found in the market of cell phone antennas," says David Byun, President of AccessoryGeeks.
About AccessoryGeeks.com:
Accessorygeeks.com is a business to consumer (B2C) Internet retail store that sells cellular & iPod accessories to end-users over the Internet or directly from the company. For more information please visit http://www.accessorygeeks.com or call toll free: (866)-433-5793.
###