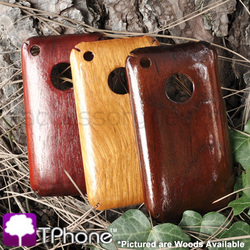 The wooden style iPhone cases for the 3G and 3GS that really adds a new frontier to styling for iPhones
Walnut, CA (PRWEB) April 10, 2010
AccessoryGeeks.com, a leading online retailer of cell phone accessories, today announces a new line up of eco-design wood finished cell phone cases for the iPhone 3G and 3GS. The wooden iPhone 3G and 3GS cases are complete organic and made of 100% wood. This is only sold exclusively at AccessoryGeeks.com.
The wooden iPhone cases for 3G and 3GS comes in three different wood styles:
•Dark Rose Wood
•Light Beech Wood
•Dark Beech Wood
Compared to plastic and silicone (elastic rubber material) cases, the wooden iPhone cases are biodegradable. Which means it is more environmentally friendly when disposed of than plastic or silicone cell phone cases. In addition, the wooden iPhone cases take on the protective standards of any other cell phone cases out in the market.
"I am proud to say that we are the first merchants to carry these unique wooden style iPhone cases for the 3G and 3GS that really adds a new frontier to styling for iPhones," stated David Byun, President of AccessoryGeeks.com.
The smooth coating on the wooden iPhone cases for the 3G and 3Gs will definitely give that genuine natural wood feel attached on to the iPhone.
About AccessoryGeeks.com
We kindly and persistently apply our geeky image to enhance our customer service, provide unconventional products, and build A Geek memory with all our customers only available at Accessory Geeks. We firmly believe in our motto "Geeky people, Geeky service, Geeky experience." For additional company information please visit http://www.AccessoryGeeks.com or call toll free 1-866-433-5793.
###