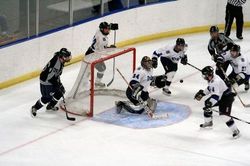 The 2009 Championship promises to be exciting, rock-em sock-em ice hockey between long time rivals up and down the Atlantic Coast
Roanoke, VA (PRWEB) February 12, 2009
The Atlantic Coast Collegiate Hockey League will host its 14th Annual Championship Tournament at the Roanoke Civic Center the weekend of February 20-22, 2009. Beginning at 7:00 PM Friday evening, Duke, UVA, UNC, NC State, Virginia Tech and Georgetown will square off.
"The 2009 Championship promises to be exciting, rock-em sock-em ice hockey between long time rivals up and down the Atlantic Coast," says Don Martin, ACCHL Commissioner.
This year, Virginia Tech comes into the Tournament seeded first after winning first place in regular season play, with Duke, Georgetown and NC State not far behind. Players and coaches hail from all over the US and Canada as well as from local addresses. "This is skilled, fast and exciting hockey at your doorstep. Each year, the ACCHL Tournament showcases exceptional hockey talent from around the league and is a real treat for the fans," say Mark Henderson, ACCHL President.
In addition to awarding Tournament-winning gold and silver medals and trophies, MVP recognition for offense, defense and goal tending during regular season play will also be awarded along with special recognition for Coach of the Year.
Hosting the tournament, the Roanoke Civic Center is a 10,500 seat Coliseum, located within walking distance of downtown Roanoke. This is the second year in a row the ACC Hockey League Tournament has called Roanoke home. Last year's tournament was exciting, with Georgetown winning their second Championship in a row, beating Duke in the final.
This is a guaranteed fun event for students, fans, families and players and the Civic Center has made it easy to attend. All-day ticket prices are $5 for students and $8 for adults with group rate discounts for 10 or more.
ESPN radio will broadcast the entire tournament from the Civic Center in Roanoke Va. on its stations:

WKEX-ESPN 1430/94.1 (Blacksburg, Va.)
WPIN-News Talk 810 (Blacksburg/Roanoke, Va.)
WKTR-ESPN 840 (Charlottesville, Va.)
WODY-ESPN 1160 (Martinsville Va.)
More information can be found at http://www.acchockey.com or http://www.roanokeciviccenter.com.
About the ACCHL:
The Atlantic Coast Collegiate Hockey League (ACCHL) is an ACHA Division 2 ice hockey conference consisting of Mid-Atlantic colleges and universities. Founded in 1995, it is the objective of the League to promote the growth of college ice hockey, and ice hockey in general, in the Mid-Atlantic and Southern regions of the United States. The long-term goal of the League is to promote its teams to full NCAA varsity-level status. The league is currently comprised of Duke, Georgetown, North Carolina, NC State, Virginia and Virginia Tech.
###