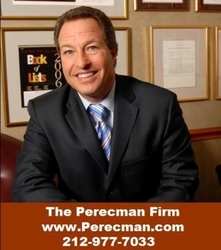 New York Super Lawyers, Metro Edition
New York (PRWEB) September 29, 2009
A 6-year-old girl hit by a SUV was as lucky as you could get according to pedestrian accident lawyers. Even before the ambulances could arrive, she was aided by a group of pediatricians who rushed out from a nearby clinic.
"It's never lucky to get hit by a car, but the situation after, was as a lucky as one can get," said David Perecman, a New York auto accident lawyer who has represented his share of auto accident victims.
As reported in The New York Post, The accident occurred on East 82nd Street and York Avenue shortly after noon on September 23. The girl was riding a scooter and accompanied by her nanny. She was hit when the SUV driver ran into her while trying to back into a parking spot.
"There are so many competing elements in New York, the auto accident lawyer explained, "when watching a child, one needs to be extra vigilant."
The pediatricians who were on the scene responded to the girl's screams.
According to police, the girl is in stable condition at NYU Medical Center.
No charges would be filed for the incident.
About David Perecman and The Perecman Firm, PLLC:
For the past 30 years, the New York auto accident lawyers, construction accident, personal injury and medical malpractice lawyers at The Perecman Firm, PLLC have championed all types of cases for auto accidents. David Perecman, founder of the Firm, is a Board Director, past Secretary and Treasurer of the New York State Trial Lawyers Association (NYSTLA) and a chair of its Labor Law Committee. Mr. Perecman's achievements have brought him recognition as an Honoree in the National Law Journal's Hall of Fame, in New York Magazine's "The Best Lawyers in America", 2008-2010 and The New York Times Magazine "New York Super Lawyers, Metro Edition", 2007-2010.
The Firm has recovered millions of dollars for its clients. Among the more recent victories, Mr. Perecman won a $15 million verdict* for a construction accident, a $5.35 million dollar verdict** for an automobile accident, and a $40 million dollar structured settlement for medical malpractice.
*later settled while on appeal for $7.940 million
** ater settled for $3.5 million
"Lawyer Advertising"
"Prior results do not guarantee a similar outcome."
###