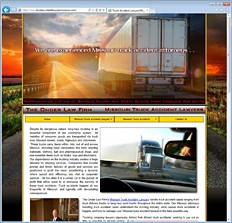 St. Louis, MO (PRWEB) May 06, 2013
The attorneys handling commercial truck accident injury cases at The Onder Law Firm are offering the public detailed information about all aspects of commercial truck accidents from a legal perspective through their two websites devoted solely to truck accident law. The causes behind motor vehicle accidents involving almost any type of commercial truck, from semi-trucks to garbage trucks down to landscaping trucks and trailers, are often far more complicated than those solely involving passenger vehicles. The size and weight of any commercial truck typically results in an accident with far greater damage and personal injury than accidents between passenger vehicles. Drivers of commercial trucks do so professionally and are held to a higher standard, but must receive adequate training and not be forced to drive beyond DOT limits. Additionally, the equipment they operate must comply with all regulations for safety features and be properly maintained. These are but a few of the potential causes and factors determining the severity of commercial truck accidents that are described on the firm's truck accident websites.
The Onder Law firm will provide a free consultation with an experienced attorney to those, or their families, who suffered an injury as a result of an accident that involved a commercial truck. One way in which the firm represents truck accident victims is to send engineers and highway safety experts to the scene as quickly as possible to gather evidence, which is then used in sophisticated computer modeling to recreate the accident, showing the causes and highlighting any safety features that failed to perform properly. These truck accident videos can expose facts and have a tremendous impact upon a jury in the case of a trial. It is steps such as this that allow the truck accident attorneys at The Onder Law Firm to represent their clients' interests to the fullest extent.
When truck accidents resulting in serious injury or death occur, The Onder Law Firm offers its assistance in the form of a no-cost, no-obligation truck accident lawsuit case review. The Onder Law Firm handles all commercial truck accident cases on a contingency basis, meaning they are only paid if and when they produce a result for their client.
The Missouri truck accident attorneys at The Onder Law Firm welcome inquiries from other law firms in regards to handling or working as co-counsel on truck accident lawsuits.
About The Onder Law Firm
Onder, Shelton, O'Leary & Peterson, LLC is a St. Louis based personal injury law firm handling serious injury and death claims across the country. Its mission is the pursuit of justice, no matter how complex the case or strenuous the effort. Onder, Shelton, O'Leary & Peterson have represented clients throughout the United States, and other firms throughout the nation often seek its experience and expertise on complex litigation. It is a recognized leader in products liability cases such as window blind cord strangulation and pharmaceutical litigation. More information about The Onder Law Firm can be found at http://www.onderlaw.com .