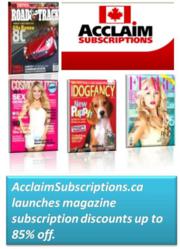 Our return shoppers love being able to order gift magazine subscriptions for friends and family members in a central location across a variety of topics. With more than 250,000 titles across 35 categories
Brooklyn, NY (PRWEB) June 12, 2011
The demand for discount magazine subscriptions in Canada continues to increase with consumers seeking the cheapest service possible to save money. AcclaimSubscriptions.ca announces launch to service this demand with the largest collection of Canadian magazine titles online offering discounts up to 85% off of commercial rates for individual, business, and gift subscriptions.
Many sites offering cheap magazine subscriptions do not offer a wide range of categories or top magazine titles to consumers. AcclaimSubscriptions.ca responds to this concern by now offering more than 30 magazine categories and all top-rated Canadian magazine brands. To help shoppers review emerging titles, the company lists 20 Magazines of the Month based on customer feedback and editor reviews.
A problem offering a large number of magazine titles for shoppers to peruse is configuring a navigation system to help site visitors find the topic being sought. The AcclaimSubscriptions.ca web portal is designed to ensure shoppers can easily drill down from category topics to individual magazine titles ranked by popularity when seeking out new subscription titles.
John Smryna of Acclaim Subscriptions – Canada writes, "Our return shoppers love being able to order gift magazine subscriptions for friends and family members in a central location across a variety of topics. With more than 250,000 titles across 35 categories, its rare that a consumer can not find a title in a desired niche to include beauty & fitness, sports, parenting, and history."
AcclaimSubscriptions.ca staff regularly evaluate new titles to list on the company's web portal for shoppers to review. Free managazine subscriptions Canada are also evaluated to ensure shoppers are not scammed out of money on downstream hidden charges.
About AcclaimSubscriptions.ca:
Acclaim Subscriptions, Canada is designed to offer magazine titles across all interests and ages. Titles listed include mainstream and small brands popular with kids, men, and women with subscription prices up to 85% off of new stand costs. The company offers tailorable billing models for individuals and business subscriptions.
Contact:
Alex Shteyn
Acclaim Subscriptions Canada
2620 East 18 Street, Suite 2, 2nd Fl
Brooklyn, NY 11235
Phone (USA): 1-866-987-9800 10am-5pm (EST)
Phone: 1-718-646-0932
Fax: 1-718-646-7773
Email: inquiry@acclaimsubscriptions.ca
Website Url:- http://www.acclaimsubscriptions.ca/
###