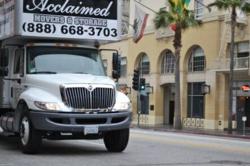 For years, Acclaimed Acton Movers and Storage has performed commercial and residential relocations throughout the community
Acton, CA (PRWEB) November 06, 2012
Acclaimed Acton Movers and Storage, the community of Acton's fastest growing moving company, has just unveiled their new website, which features an easy-to-use moving quote generator, smoother navigation through the site, and pages of useful moving advice and information. The moving quote generator can be accessed from nearly every page, making it easier than ever to get an estimate, and get moving. The site also now features a link to the company's blog, along with numerous articles to help people through every step of the moving process. Acclaimed continues to evolve in the pursuit of perfection, working to provide Acton with the most comprehensive and affordable moving services.
For years, Acclaimed Acton Movers and Storage has performed commercial and residential relocations throughout the community. Their full-service, fully comprehensive, luxury moving service covers everything from planning, to packing, to delivery. All of their Acton movers are extensively trained in how to properly wrap, pack, and move any item; including, but not limited to; automobiles, artwork, pool tables, pianos, office furniture, network servers, even boats. The professional packing service they offer ensures the safe transportation of belongings, while further fortifying boxes, allowing them to support greater external pressure while in transition. Moreover, the Acton movers operate a fleet of top-of-the-line trucks equipped with GPS, and use only the industry's strongest and safest packing materials. When storage is necessary, Acclaimed has space available in their enormous, secure, storage facility; featuring 24 hour surveillance and a state-of-the-art climate-control system that keeps pests, mold, and rust away from belongings.
Acclaimed Acton Movers and Storage is dedicated to developing lasting relationships with everyone they move. Their goal is to define professionalism and reliability in the moving industry. Their newly redesigned website is just one example of their ongoing efforts to improve and expand, as they strive to provide the customer with the best possible moving experience. When moving into, or out of, Acton, be sure to visit http://www.Acclaimedmovers.com, or call (888) 668-3703 for a free, no obligation quote. Acclaimed Movers and Storage, we'll get you moving.