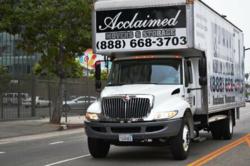 Alhambra, CA (PRWEB) November 07, 2012
Alhambra has seen a change in atmosphere over the past few years. In the face of the struggle of the economic recession Alhambra has been seeing some positive changes. Recently the city has seen a revitalization in enthusiasm for "greener" living and solutions-- a 3-acre conservation landscape has just been opened in the city and there was a recent conference held by The Monterey Park Environmental commission for the public to "meet and greet" environmental professionals. Acclaimed Alhambra Movers have taken a cue from its city's recent initiatives and purchased four new biodiesel-powered moving trucks.
The 53-foot moving trucks are capable of servicing local, long distance, and international moves. Biodiesel trucks commonly run on a blend of what's known as B20, 20% biodiesel and 80% petroleum diesel fuels. Biodiesel fuel is produced domestically, made of organic and renewable materials that are cleaner burning than petroleum. Using biodiesel fuel is beneficial for the public and increases the safety security for the environment. Acclaimed is adding these trucks to a fleet that is already primarily biodiesel, which is ahead of the curve for a Los Angeles-based moving company. Acclaimed Ahlabmra moving service is provided by a staff of seasoned experts in the moving industry who have been applying their years of experience and foresight to better shape the future of their company. Their devotion to renewable fuel sources is an indication of the progressive nature of Acclaimed Moving and Storage, an attitude that is necessary for businesses to thrive in today's economy.
Acclaimed Moving and Storage service includes full service packing, relocation, and assembly of home and office furnishings. They also offer specialty services including vehicle transport services, piano moving, and local storage with delivery. Acclaimed is a constantly growing and expanding business with more plans in motion to better service the public. To learn more about Acclaimed Moving and Storage visit http://www.acclaimedmovers.com.