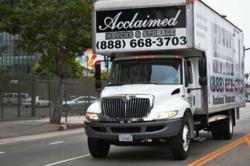 Baldwin Park, CA (PRWEB) November 09, 2012
Acclaimed Baldwin Park Moving and Storage, a locally based provider of moving and storage services, has recently expanded the range of their coverage. The moving company has seen a sudden trend in receiving requests for their moving services with hospitals and as a result has extended the range of the company's coverage to providing relocation services for hospitals in addition to homes and businesses. The moving company has attained a new arsenal of high-grade moving equipment and materials in order to provide for the delicate and sometimes massive equipment that can entail a hospital move.
Acclaimed had recently taken on a job to move an X-Ray machine, and to prepare for the job the Acclaimed project coordinators did extensive research into hospital equipment to ensure that their staff is properly qualified and equipped for the job. Of course, the move was a seamless success. With the X-Ray move accomplished, Acclaimed has only begun to receive more calls from medical health service providers in the area that are requesting their assistance. The staff has a major facility relocation in the works and with these plans ahead Acclaimed has taken the initiative to further expand on the company's fleet. Acclaimed has recently acquired all new moving straps, mats, and also materials that cater to the delicate and complex equipment in a hospital. The Acclaimed moving team is a crew of full-time employees that are rigorously trained to meet the expectations of the company, and the years of commitment put forth by the staff are elemental in the company's continued expansion.
Acclaimed has maintained a consistent effort over the years to cater to a changing market, and their newfound expertise in hospital relocation services is one to add to an already impressive list. Acclaimed Moving and Storage can provide local and long distance moves for home and office furnishings as well as specialty services such as vehicle transport and piano moving services. For more information on Acclaimed Moving and Storage, visit http://www.acclaimedmovers.com