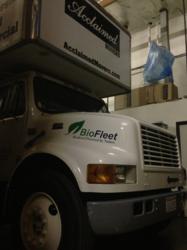 Los Angeles, CA (PRWEB) December 29, 2012
On any given day in Los Angeles, some ten million people travel around the city, whether to work, or out on errands, or just out to get some fresh air. But, with so many people, and a similarly immense number of vehicles, the air is not so fresh anymore. In fact, the city is often enveloped in a "fog" that is actually a heavy coat of smog. The carbon monoxide levels are only made worse by the many trucks, including moving trucks, which pump their diesel exhaust into the air with gusto. Because it's an intense problem that every Californian has to deal with, it's extraordinarily rewarding to find local companies that go the extra mile in the effort to protect the environment and reduce emissions. Acclaimed Movers and Storage, Los Angeles' leading, luxury, residential and commercial moving company, is doing just that with the conversion of all of their trucks to an eco-friendly biodiesel fuel.
Acclaimed, which is a comprehensive, full-service moving company, recognized that they were a part of the carbon monoxide problem, not the solution, and decided to make a change. As they could not impact the number of vehicles on the road, or the expanding number of trucks being used by the company, they began researching how to leave a smaller carbon footprint with those trucks. Their research led them to discover that the most efficient way to reduce their carbon footprint was to convert their entire fleet over from regular diesel fuel to biodiesel. It was an arduous, and at times expensive, process, but one that Acclaimed was committed to seeing to the finish. Their growing fleet of trucks now put less strain on the environment, and the switch began an internal go-green movement for the company. In addition to the biodiesel fuel conversion, Acclaimed has also begun the process of moving to a completely paperless workplace, and has revamped company practices to be more energy efficient. Moreover, they are looking into using 100% recycled paper for all contracts, advertisements, and business cards.
Acclaimed Movers and Storage is an independent, local business that not only does its part for the environment, but also helps boost the local economy. By hiring experienced, Los Angeles based movers, and by getting their supplies from Los Angeles based suppliers, Acclaimed is keeping the city working. They are also the go-to commercial moving company for businesses that are looking to make an affordable and efficient transition to a new location. Acclaimed decided to take initiative and make a change for the betterment of the environment, and now they're leading by example as the rest of the industry moves to follow suit.