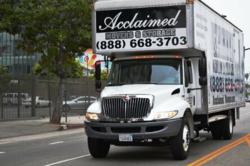 Burbank, CA (PRWEB) November 14, 2012
Acclaimed Moving and Storage, a locally based moving company, has recently expanded the supplies, staff and services used by the company to be able to better provide their office moving services to Burbank and the surrounding cities. The recent expansion is an effort on behalf of the Burbank Movers to further boost economic recovery while the country has been seeing steady, albeit slow recovery in 2012. Acclaimed's office moving services is now available on a national level and caters to a wider range of businesses, including hospitals and businesses requiring service on a large scale.
In the past year the economy of Burbank has been seeing a steady recovery, with office employment showing the fastest regrowth of the top industries based in Burbank. Jobs in computer programming and legal services are now the fourth largest source of employment for the Burbank area. In Glendale the legal job sector has increased 18% up from the record low it faced after the 2007 subprime mortgage crisis. The combination of job growth and the lowering interest rates resulted from the housing bubble deflation has provided a new opportunity for businesses to move to Burbank, already reputed as one of the central business-oriented cities in the Los Angeles County. Throughout the economic recession Acclaimed Moving and Storage has managed to continue to operate with success by paying attention to the demands of their market and tailoring their services offered to better accommodate to the market's needs and limitations. The expansion of the Acclaimed office moving services has opened up new opportunities for the business to maintain steady operations during what is considered the "slow" season in the moving industry.
Moving businesses have potential to survive in economic recessions because of their low overhead, the opportunity moving provides for the public to find new employment, and by the business' nature of generating commerce through interstate travel and generating jobs. The management of Acclaimed Moving and Storage has applied this insight to the practices of the business with careful consideration for future growth opportunities. To find out more about the expanding services of Acclaimed, visit http://www.acclaimedmovers.com.