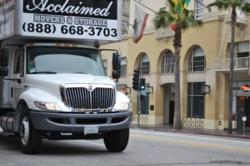 Calabasas, CA (PRWEB) November 15, 2012
From 2005 to 2010 Calabasas saw little change in population density, much of this being attributed to the subprime mortgage crisis of the late 2000s. In the last year, however, the economy has been seeing a gradual yet steady turnaround. The growing faith of the community in the economy's state of recovery is evident in the recent approval of a new 78 unit multifamily housing project, similar to the 86 unit condo complex that was slated for construction in 2007 but stalled indefinitely due to the economic downturn. In response to the resurgence of growth in the Calabasas economy, Acclaimed Calabasas Movers and Storage has announced the expansion of the company's fleet with all new moving trucks, equipment, and several new members of the Acclaimed team.
Acclaimed Moving and Storage is a luxury full service moving company that caters to high-value homes and offices by providing full service moving and storage solutions on a local and long distance level. Acclaimed management has taken studies from the past year to better determine how the business can better cater to the Calabasas local industry. With the recent expansion of the Acclaimed fleet, Acclaimed can now offer their moving services with professional consistency on a national level. The new industry standard trucks and professional-grade moving mats and straps come along with several team members new to the Acclaimed team. New members of the Acclaimed staff undergo extensive training and critical testing by Acclaimed management to ensure that they are skilled experts with all aspects of moving before being put to work. The commitment to perfection put forth by the Acclaimed management is how the company maintains a full-time staff devoted to working under the Acclaimed banner.
Acclaimed Calabasas Movers provides luxury moving services including protective relocation of high valued art and expert piano moving, as well as luxury vehicle transport services and local storage with delivery options. For more information on the services provided by Acclaimed Moving and Storage, visit http://www.acclaimedmovers.com.