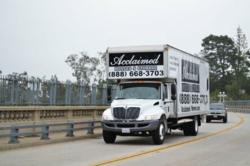 Canoga Park, CA (PRWEB) November 16, 2012
Canoga Park has a history of development dating back to the 1800s, and the conscious efforts upheld by the city have helped to maintain the surrounding geography relatively well for a region that has seen over a century of expansion. Headwaters for the Los Angeles river start just to the west of Canoga Park and flow through the city, as does the Arroyo Calabasas, and the habitats surrounding these channels provides shelter for some of the area's last of the surviving indigenous wildlife. Acclaimed Canoga Park Movers, a locally based moving company, has recently expanded its fleet with four new 53-foot trucks. The new industry standard trucks operate on biodiesel fuel and are part of the continued effort by local businesses to promote the usage of renewable fuel sources as well as reduce the city's carbon footprint.
The country has made a shift in focus from reducing greenhouse emissions to implementing renewable fuel sources in the last few years. The Obama administration's stance on the issue has been a matter of economics, citing investment into alternative fuel sources as a means of providing jobs and opening new avenues to the American market. However, the issue doesn't end there. Scientists have been warning that a increased concern for the nation's environmental impact is crucial for future sustainability. A recent study from the National Center for Atmospheric Research in Boulder, CO shows an unexpectedly significant correlation between climate warming and the production of carbon dioxide, a factor that was already recognized as detrimental to the environment. This shift in mentality could work as an effort to get critics of global warming involved, but environmental activists are still concerned.
Biodiesel is growing in popularity as one of the most useful alternative fuel sources. Biodiesel fuel is a domestically produced, biodegradable, and nontoxic fuel source that can burn anywhere from 5-35% cleaner than fossil fuels. The new Acclaimed biodiesel trucks are a valuable asset to their fleet and reflect efforts to promote alternative fuel sources that also actively reduce the company's carbon footprint. With the expansion of the fleet, Acclaimed Moving and Storage now offers their full-service moving services at a local and long distance level, to a national scale. For more information on the services provided by Acclaimed, visit http://www.acclaimedmovers.com.