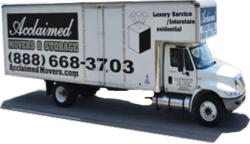 Chatsworth, CA (PRWEB) November 29, 2012
The premier, full-service moving company in Chatsworth, Acclaimed Chatsworth Movers and Storage, has just revealed it's completely redesigned website. The new site vastly improves Acclaimed's online presence, offering easier navigation, an extraordinarily useful moving quote generator, and a wide range of additional content. The additional content focuses on creating a more informed consumer; providing advice, tips, and general moving related information. Redesigning their website is just one part of Acclaimed's expansion, as the company works to provide Chatsworth with the most comprehensive and affordable moving services. It's now easier than ever to get information, an accurate quote, and to get moving with Acclaimed.
Acclaimed Chatsworth Movers and Storage has years of experience performing commercial and residential relocations throughout the community, as well as, around the country, and around the globe. Each of their Chatsworth movers is an expert on wrapping, packing, and moving any item. This includes artwork, pool tables, pianos, antiques, office furniture, network servers, even automobiles. Their packing service also ensures the safe transportation of belongings, while strengthening cardboard boxes, allowing them to support greater external pressure during the course of the transition. Furthermore, Acclaimed maintains a fleet of reliable, bio-diesel trucks equipped with GPS, and uses only industry-protection-standards setting packing materials. When storage is required, they maintain space for customers in their colossal, climate-controlled, secure storage facility; featuring round-the-clock video surveillance, and a temperature control system that protects belongings from the elements.
Acclaimed Chatsworth Movers and Storage is dedicated to developing lasting relationships with each person they move. The company goal is to define professionalism, affordability, and reliability in the moving industry. As the Chatsworth moving market evolves, so does Acclaimed, always improving their services to remain the go-to moving company in the community. When moving into, or out of, Chatsworth, be sure to visit http://www.Acclaimedmovers.com, or call (888) 668-3703 to get a free, no-obligation quote from the expert Chatsworth movers at Acclaimed. We'll get you moving.