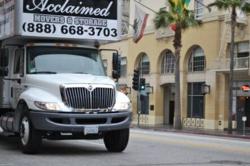 Culver City, CA (PRWEB) December 04, 2012
For the leading, luxury moving company in Los Angeles, Acclaimed Culver City Movers and Storage, business is booming leading to an expansion that includes the addition of four new, 53 foot, trailers. The additional trailers are part of an ongoing company evolution, which has greatly improved Acclaimed's office moving services. Now Acclaimed can perform more office moves than ever before, and with greater efficiency. As more businesses move to Culver City, the demand for quality office moving services has increased dramatically, propelling Acclaimed to meet those demands. Acclaimed Culver City Movers and Storage continues to expand in their efforts to provide the city with the most comprehensive and affordable moving services.
Acclaimed Culver City Movers and Storage has years of experience performing residential and commercial moves in and around Culver City. Their Culver City movers are knowledgeable, clean-cut, company men who have received extensive training on how to properly wrap, pack, and move any item; including large and small office furniture, network servers, artwork, antiques, pool tables, pianos, and even automobiles. As a full-service, fully comprehensive moving company, they also offer packing services, which ensure the safe transportation of all belongings. Furthermore, Acclaimed maintains a large fleet of reliable, bio-diesel trucks equipped with GPS, and uses only industry-protection-standards setting packing materials. When storage is required, they have space available in their state-of-the-art, secure, storage facility; featuring 24 hour video surveillance and a climate-control system that keeps outside elements out.
Acclaimed remains dedicated to creating lasting relationships with each person they help. The company goal is to define professionalism and reliability in the moving industry, while maintaining the most affordable rates. The addition of four new trailers provides a boost to their office moving services, and ensures that they can tackle any move. When it's time to move an office or home into, or out of, Culver City, be sure to check out their website, http://www.Acclaimedmovers.com, or give them a call at (888) 668-3703 for a free, no-obligation quote. Acclaimed Culver City Movers and Storage, we'll get you moving.