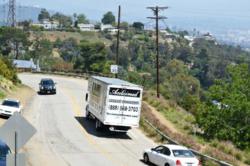 Eagle Rock, CA (PRWEB) December 05, 2012
Eagle Rock's leader in luxury moving, Acclaimed Eagle Rock Movers and Storage, has just dropped the curtain on their fresh new website, which provides the customer with a revitalized online experience. The exciting new site has a user-friendly layout with super-smooth navigation, a readily available moving quote generator, and a plethora of new content. The moving quote generator, now located throughout the site, makes it easier than ever to get a quote and get moving, while all of the new content is focused on creating more informed consumers. The evolution of the site is part of the company's ongoing expansion, as they develop and improve their services to meet the demands of the Eagle Rock moving market. Acclaimed is committed to providing the most comprehensive and affordable moving services.
Acclaimed Eagle Rock Movers and Storage has performed residential and commercial relocations throughout the neighborhood for years, and they can help people transition across the street, across the nation, or even around the globe. Their Eagle Rock movers go through intensive training on how to properly pack and move any item, and the packing service they offer ensures the safe transportation of belongings, while strengthening boxes. Pianos, pool tables, artwork, antiques, automobiles, office furniture, custom furniture, network servers, they are prepared to handle all types of items. Moreover, the company has a fleet of reliable, top-of-the-line trucks equipped with GPS, and uses only industry leading packing materials. When storage is necessary, they have space readily available in their state-of-the-art, climate-controlled, secure, storage facility; featuring 24/7 video surveillance and a temperature control system that ensures belongings are protected from pests, mold, and rust.
A full-service, fully comprehensive moving company, Acclaimed takes care of every step in the moving process. They are dedicated to developing life-long relationships with every person they move. The company goal is to define professionalism, reliability, and affordability in the moving industry; while serving all of Eagle Rock's moving needs. When the time is right for a move into, or out of, Eagle Rock, visit http://www.Acclaimedmovers.com or call (888) 668-3703 for a free, no-obligation quote. Acclaimed Eagle Rock Movers and Storage, we'll get you moving.