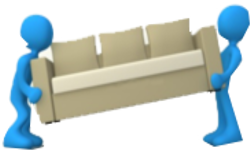 North Hollywood, CA (PRWEB) November 08, 2012
Acclaimed Moving and Storage has been consistently expanding and improving their services over the past year and in their latest development have upgraded their furniture moving services with all new moving straps, mats, and mobile moving crates. Over the past year the company has been expanding the reach and variety of their services by purchasing new trucks, implementing new methods of "high touch" furniture moving, and now with the improvement of the equipment used by their team Acclaimed has further established itself as a contending purveyor of relocation services to the public.
The recent upgrade to the Acclaimed arsenal consists of a complete replacement of the crew's moving straps and mats, and the acquiring of several moving crates. Crates are used by Acclaimed to protect high-value electronics, furniture, and home décor. The mats used by Acclaimed are of a professional grade and are used to protect furnishings as well as walls and corners passed by the movers. Acclaimed has been meticulously cultivating its services to the highest scrutiny in order to offer their luxury full-service moving service on a national scale. The resilience of Acclaimed during the economic recession goes hand-in-hand with the company's practice of shaping their services to meet the demands of a changing market. Over the past year the company also purchased a small fleet of moving trucks to effectively expand their long distance moving services and since then have been providing regular cross-country moves, particularly for clients departing the East Coast.
Acclaimed Moving and Storage offers full service local, long distance, and international moving services as well as specialty moving services like vehicle transport services and piano moving. The growth of Acclaimed during the nation's slow economic recovery could be seen as a beacon of hope; as new job opportunities are created, the American public continues to migrate and gain confidence in taking new risks.