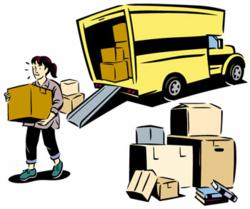 Los Angeles, CA (PRWEB) February 21, 2013
Los Angeles' first choice for all residential and commercial moves, Acclaimed Movers, has just added two new trucks to its massive fleet, and these are equipped with all-important lift-gates. The trucks, which are brand new, will be used for customers that are leaving out of state as they are the most efficient vehicles in the fleet. The lift-gate feature, which both trucks have, allows Acclaimed to easily put furniture or equipment weighing up to twenty-five hundred pounds onto the trucks. The company can now handle more interstate moves than ever before, with added emphasis on the fact that they can now handle heavier items as well. The addition of new trucks comes on the heels of Acclaimed revealing a redesigned website, and continuing ongoing improvements that have seen the company jump to the forefront of the Los Angeles moving industry. Acclaimed is an "A" rated company with the Better Business Bureau.
For more than a decade, Acclaimed has performed luxury relocations throughout California, throughout the United States, and throughout the world. They move all types of buildings, including homes, apartments, condos, offices, warehouses, retail facilities, and restaurants. They have a team of ultra-skilled movers who go through regular training, and they use only the finest materials and tools for every move. The packing service that Acclaimed offers ensures the safe transportation of your belongings, and includes hand-built moving crates for all flat-screen TVs, antiques, artwork, electronics, and other fragile or valuable items. Acclaimed uses its own, growing fleet for every move, and all of their trucks are equipped with GPS so that they can track shipments. If storage is required, Acclaimed has a colossal, state-of-the-art, climate-controlled storage facility, which is available for long-term and short-term periods.
Acclaimed Movers provides a top-quality, luxury moving experience, at an affordable, economical rate. The company has quickly become synonymous with affordability, reliability, and efficiency in the moving industry. With the addition of two new trucks, as well as, two new lift-gates, Acclaimed is equipped to make moving out of state effortless and enjoyable. If it's time to make a move to another state, it's time to get a free, no-obligation quote from Acclaimed Movers. We'll get you moving.