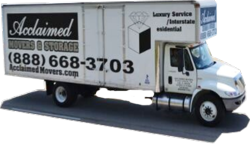 Los Angeles, CA (PRWEB) November 20, 2012
Los Angeles' leading, luxury moving company, Acclaimed Movers and Storage, continues its current expansion with the addition of two more, 53 foot, trailers. Acclaimed now has four new trailers in total, along with a fleet of GPS equipped trucks, allowing them to perform any type of long distance move. The additional trailers further improve the availability and efficiency of their long distance moving services, and they will move you anywhere in North America, or anywhere in the world, with ease. Los Angeles has always been a hub for long distance migrations, and Acclaimed is actively working to become the first choice for anyone making a long distance move to, or from, the city.
For years, Acclaimed Movers and Storage has performed residential and commercial relocations throughout Los Angeles. Their highly skilled relocation specialists have a unique knowledge of Southern California, and are also extensively trained in how to pack and move any item, including automobiles, artwork, antiques, pianos, pool tables, office furniture, and network servers. They offer a packing service which ensures the safe transportation of belongings, while also fortifying boxes, allowing them to withstand greater external pressure throughout the move. Their fleet of trucks continues to grow, has proved to be reliable, and features a global positioning system that keeps the driver on track and provides easy tracking of shipments. When storage is necessary, they maintain space in their colossal, climate-controlled, secure, storage facility; featuring 24 hour surveillance and a temperature control system that keeps out bugs, mold, and rust.
Acclaimed is committed to crafting lasting relationships with each person they move. The company's goal is to define professionalism, affordability, and reliability in the moving industry. They continue to evolve and improve, molding their services to match the changing demands of the Los Angeles moving market. Now, every long distance move they perform is an effortless and enjoyable experience. No matter the distance, when looking to move a home or business into, or out of, Los Angeles, visit http://www.Acclaimedmovers.com, or call (888) 668-3703 for a free, no-obligation quote. We'll get you moving.