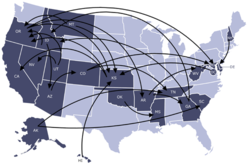 Los Angeles, CA (PRWEB) February 22, 2013
The premier, luxury residential and commercial moving company in Los Angeles, Acclaimed Movers, has just expanded its long distance moving team to include the nation's best state-to-state movers. The new movers, specialists who focus on state-to-state moves, all have years of experience in the industry, as well as a passion for helping people. They've joined the Acclaimed team to be a part of the fastest growing moving company in the nation. With the addition of these great state-to-state movers, Acclaimed now has the most skilled and experienced relocation specialists in the industry. Acclaimed Movers continues to improve and expand in their ongoing efforts to remain the city's go-to moving company. Acclaimed has earned an "A" rating from the Better Business Bureau.
For years, Acclaimed has provided it's fully comprehensive, luxury moving services for local and long distance moves, helping people transition to places all around the world. Homes, apartments, condos, offices, warehouses, retail facilities, restaurants, you name it and Acclaimed has moved it. Their relocation specialists are required to go through regular, in-depth training, which ensures that they can properly wrap, pack, and move any item. They offer a packing service that includes the use of techniques which actually strengthen your boxes, and that includes the disassembly of all furniture that requires it, as well as building custom moving crates for all valuable and delicate items. All transportation is provided by Acclaimed's own fleet of trucks, all of which are equipped with GPS so that shipments can be tracked. If storage is required, Acclaimed has short-term and long-term space available in their climate-controlled, secure, storage facility.
Acclaimed Movers has worked tirelessly to establish a reputation for reliability, affordability, and efficiency. They consistently provide a premium service at an economical rate, and they strive to create a lifelong customer out of each person that they help. The addition of the nation's best state to state movers only strengthens their position as the foremost moving company in the city. When it's time to move from state to state, it's time to get a free, no-obligation quote from the experts at Acclaimed Movers. We'll get you moving.