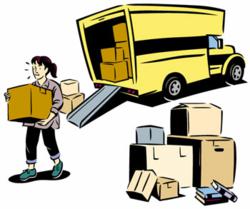 Los Angeles, CA (PRWEB) February 20, 2013
Los Angeles' premier, luxury residential and commercial moving company, Acclaimed Movers, has put together a list of ten tips, which will simplify the long distance moving process. In addition to handling local moves, Acclaimed is a fully comprehensive, full-service long distance moving company that handles relocations to places all around the world. Here are their top ten tips:
1. Take at least two months to plan. There will be quite a bit to do to prepare for a long distance move, which is why it's important to allot ample time to handle that stuff. If possible, take even more time than two months, so that there will be no rush or haste as key decisions and choices are made.
2. Have a new place ready. It's crucial to have a place to settle down in, so that there's no scramble to find lodgings once the move is underway or completed. If a place hasn't been found before preparations for the move begin, that search needs to be kicked into high gear.
3. Gather multiple quotes for the move. When looking for a long distance moving company, it's important to remember that gathering multiple quotes will make it easy to find the right company. Having quotes from many companies makes it possible to compare and contrast to find the perfect services at the perfect rate.
4. Research is the key. Once quotes have been gathered, and a couple of strong, long distance moving company options have emerged, its time to do some background research. This means calling the company to gauge knowledge and professionalism, and then following up with in-person visits to confirm that the company truly is as prepared as they advertise.
5. Discard or donate all unwanted items. Once a moving company has been found, the real work begins. It's now time to discard or donate all unnecessary or undesired items. Local churches and charitable organizations will be more than happy to accept gently used household goods, clothes, etc.
6. Gather the right materials. Every move is different, but the one constant in moving is the need for materials. From boxes to tape, there are certain essentials that every relocation requires, and those items can be obtained from a local grocery or office supply store (boxes, tape) or from a local moving company (moving blankets, lifts, dollies).
7. Proper packing saves time and money. Proper packing means all space within boxes, on the truck, and in general, is filled so that items cannot shift during the transition. Movement causes damage, so as little movement as possible is the desired effect. Proper packing also includes using packing paper and moving blankets to protect items, as well as, protecting valuable and fragile items with moving crates. When items don't get damaged, there's no need to spend time and money replacing them.
8. Shut off or transfer all services in advance. It's important to have utilities on at the new location, as well as, to have them shut off at the old one. Be sure to schedule a change of address or cancellation for all services, including utilities, mail, banking, schools, etc.
9. Gather the necessary documentation. Interstate long distance moves require minimal paperwork; however, international long distance moves require IRS permission, as well as, VISA's, Passports, and other documentation. Gather, fill-out, and submit all necessary documentation during the planning period prior to the move.
10. Choose a full-service moving company like Acclaimed Movers. A full-service long distance moving company will assist with every phase of the moving process, including helping with all necessary documentation, planning, gathering materials, packing, and of course the labor. Their job is to make life easy for every person making a move.
Acclaimed's tips are designed to help kick-start the mind as moving day approaches, and to simplify the entire process. Acclaimed Movers is synonymous with affordability, reliability, and efficiency in the moving industry. When it's time to find a long distance moving company, it's time to contact Acclaimed Movers for a free, no-obligation quote. We'll get you moving.