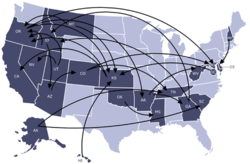 Los Angeles, CA (PRWEB) November 21, 2012
The leader in luxury moving services in Los Angeles, Acclaimed Movers and Storage, has experienced an increase in long distance moves, and as such, they've just released three of their essential tips for moving across country.
Tip number one, begin planning your move at least two months in advance, so that you have ample time to hire a moving company, pack up your house, and handle any complications that may arise.
Tip number two, create a detailed inventory of every item being moved, this will keep things organized and prevent items from getting lost. If at all possible, take photos of all items for the inventory, so that you also have visual confirmation.
Tip number three, learn how to pack a box before you do any packing. Packing is an art form, and improper packing will lead to damaged items, so be sure you know what you're doing before you box up your entire house. Acclaimed is the premier moving company in Los Angeles, offering comprehensive and affordable moving services for moves of all shapes and sizes.
As a full-service, luxury moving company, Acclaimed performs residential and commercial relocations throughout Los Angeles. Homes, apartments offices, warehouses, retail facilities, they have experience with all types of moves. Each of their relocation specialists is extensively trained in how to wrap, pack, and move any item; including, but not limited to; antiques, artwork, automobiles, pool tables, pianos, conference tables, network servers, and desks. Their professional packing service insures the safe transportation of belongings, while fortifying boxes, allowing them to support greater external pressure throughout the move. Furthermore, Acclaimed operates a fleet of top-of-the-line trucks equipped with GPS, and uses only industry leading packing materials. When storage is necessary, Acclaimed has space available in their state-of-the-art, climate-controlled, secure storage facility; featuring 24 hour surveillance and a temperature control system that protects belongings from pests, mold, and rust.
Acclaimed Movers and Storage continues to be the leader in moving people across country, and they develop lasting relationships with everyone they move. The goal is simple, to define professionalism and reliability in the moving industry. Acclaimed evolves and improves on a daily basis, catering their services to the needs of the constantly-changing moving market in Los Angeles. When moving a home or business into, or out of, the area, be sure to visit http://www.Acclaimedmovers.com, or call (888) 668-3703 for a free, no-obligation quote from Acclaimed Movers and Storage. We'll get you moving.