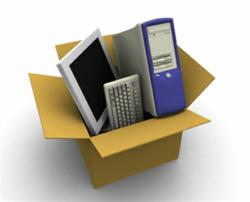 Los Angeles, CA (PRWEB) February 19, 2013
The premier residential and commercial moving company in Los Angeles, Acclaimed Movers, has just acquired a truck with a lift-gate, which dramatically improves the capabilities of their office movers. Now Acclaimed can safely load and unload equipment weighing up to twenty-five hundred pounds, allowing the company to handle a wide variety of new items. With the expanded capabilities, Acclaimed can move equipment from warehouses, restaurants, retail facilities, and more in addition to moving all types of office furniture. They can also now say that their office movers have the best equipment and tools in the industry. The addition of the lift-gate is just one move in a series of improvements that has seen Acclaimed Movers become the go-to moving company for all relocations in Los Angeles. Acclaimed is an "A" rated company with the Better Business Bureau.
As a fully comprehensive, full-service moving company, Acclaimed has experience with relocations of all shapes and sizes. Acclaimed Movers moves homes, condos, apartments, offices, warehouses, restaurants, retail facilities, and all types of properties. The Acclaimed moving team of relocation specialists goes through extensive training, has the industry's best tools, and truly cares about making each move an incredible, luxury experience. Acclaimed offers a packing service that is perfect for homes or businesses, as it saves the customers time and money while offering a superior level of protection for belongings. All of the transportation is conducted by our fleet of top-of-the-line trucks, which are equipped with GPS so that Acclaimed can track shipments and find the most efficient routes. When storage is necessary, Acclaimed has massive, climate-controlled, secure storage facility. Space is available for long-term and short-term storage, and all items are kept inside vaults.
Acclaimed Movers is committed to providing Los Angeles' most affordable, efficient, and effective, luxury residential and commercial moving services. The company grows and improves with every move, as Acclaimed perfects their craft so that they can provide a more comprehensive moving experience. Their office moving specialists now have the tools to complete any office or business move with ease. When it's time to move a business into or out of Los Angeles, it's time to get a quote from Acclaimed Movers.