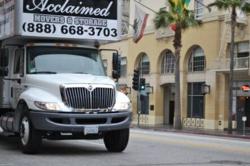 Pasadena, CA (PRWEB) November 14, 2012
The leading, luxury moving company in Pasadena, Acclaimed Pasadena Movers and Storage, has just added multiple, 50 foot, long-distance trailers to its ever-expanding fleet; taking their interstate moving services to a new level. Acclaimed now covers every inch of the United States; Pasadena to New York, Los Angeles to Florida, they will go anywhere. The new trailers greatly improve the efficiency and availability of Acclaimed's interstate moving services, propelling them to the forefront of the Pasadena moving market. Their commitment to excellence, and continued evolution, is part of an on-going effort to provide Pasadena with the most comprehensive and affordable moving services.
A full-service, fully comprehensive, luxury moving company, Acclaimed Pasadena Movers and Storage has performed residential and commercial moves throughout the city for years. Now, with their added trailers, they can move people from Pasadena to any place in the country, or vice versa. All of their Pasadena movers have been extensively trained in how to wrap, pack, and move any item. Automobiles, boats, pianos, pool tables, artwork, office furniture, they can and will move it all. Furthermore, Acclaimed maintains a fleet of top-of-the-line trucks equipped with GPS, and use only the industry's strongest and safest packing materials. When storage is necessary, there is space available in Acclaimed's enormous, secure, storage facility; featuring 24 hour surveillance and a climate-control system that protects belongings from pests, mold, and rust.
Acclaimed Pasadena Movers and Storage is actively working to remain the city's best moving company. They strive to develop lasting relationships with each person they move, making every relocation relaxing and enjoyable. Their goal is simple, to define professionalism and reliability in the moving industry. When looking to make a move into, or out of, Pasadena, visit http://www.Acclaimedmovers.com, or call (888) 668-3703 for a free, no-obligation quote. Acclaimed Pasadena Movers and Storage, we'll get you moving.