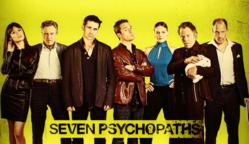 Los Angeles, CA (PRWEB) September 29, 2012
Los Angeles' premier luxury moving and storage company, Acclaimed Movers and Storage, is excited to announce its state-of-the-art storage facilities make an un-credited cameo appearance in the soon to be released film, Seven Psychopaths. The Martin McDonagh film, which stars Woody Harrelson, Colin Farrell, Sam Rockwell, and Christopher Walken, is set for its much anticipated release in the United States on October 12, 2012. During production of the film, Acclaimed was more than happy to provide use of its facilities, which supply the backdrop for a few of the films exciting scenes. With film setting now on its resume, along with an "A" rating from the Better Business Bureau, and years of experience in the moving industry, Acclaimed can now lay claim to the title, best in the business.
A full-service, fully comprehensive moving company, Acclaimed handles residential, commercial, local, national and international relocations. They perform each move on an individual basis, with skilled moving consultants guiding the client step-by-step through the process. Their relocation specialists are extensively trained in how to properly wrap, pack, and move any item. Automobiles, boats, artwork, pianos, you name and they will move it successfully. Additionally, Acclaimed uses a fleet of top-of-the-line trucks, as well as, industry protection standards setting packaging materials. If storage is required, Acclaimed offers space in their state-of-the-art, climate-controlled, secure storage facility. 24 hour surveillance, and a temperature control system that prevents mold, rust, and wear to belongings, ensures that any personal effects are in good hands with Acclaimed.
Acclaimed Movers and Storage is continues its aggressive development, striving to make each move effortless and relaxing for the client. The goal is simple, to define professionalism and reliability in the moving industry. With every relocation, Acclaimed further refines their craft and develops lasting relationships with the people they help. When looking to make a move, go online to http://www.Acclaimedmovers.com or give Acclaimed Movers a call for a free no-obligation quote. We'll get you moving. (888) 668-3703.